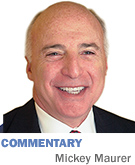 Each January, I reflect on the prior year's columns. I am always curious about the topics and people I have written about over the course of the year. I hope you are, too.
Last April I had a little fun with Eli Lilly and Co. I suggested that its erectile dysfunction drug Cialis could benefit by plagiarizing other slogans in the marketplace. For example:
• We bring good things to life. (General Electric)
• Reach out and touch someone. (AT&T)
• The quicker picker upper. (Bounty)
• Wassup?! (Budweiser)
• When it absolutely, positively has to be there overnight. (FedEx)
• Play, laugh, grow. (Fisher-Price)
• Be all that you can be. (U.S. Army)
• Home of the whopper! (Burger King)
John C. Lechleiter, Lilly's CEO, praised the column. He ended his note with, "If you're ever looking for work, I'll put you in touch with our marketing people!"
My October column touted the candidacy of J.D. Ford, who was running against incumbent Mike Delph for the 29th Senate District seat. Ford is a young, bright, energetic guy with plenty of promise. He lost to Delph, an anti-gay-rights activist, in a close vote. Delph's hard-core support from the far right was enough in this low-turnout election. Shame on Democrats and moderate Republicans for this missed opportunity. I congratulated Delph on his victory. Life goes on.
In July, I paused from the usual fare and wrote a column of personal reflections—the times you think about when it's too late, the thoughts that plague you upon the death of friends, the missed non-repeatable opportunities, and the revelations that lead you to tweak your life course.
Shortly after that column was published, I seized a non-repeatable opportunity to climb the Inca Trail with my daughter Jill. It was a rigorous, five-day hike through mountain passes and deep valleys ending with the descent from Inti Punku (sun gate) to the grand ruins of Machu Picchu. It about killed me—but it was worth every step.
In June, I was bullish on Endocyte, an Indiana biopharmaceutical company that develops drugs and imaging diagnostics to identify and treat cancer and other serious diseases. The year before, I touted the stock when it traded between $4 and $8. It hit $33 in March before it tanked with the announcement that its drug vintafolide and companion imaging components were being withdrawn in Europe because it did not meet the pre-specified criteria for progression-free survival. In other words, the stuff didn't work.
I stated then that the $6-per-share price gave no consideration to the value of Endocyte's initiatives, and given the cash on hand and the potential for current trials, the reasonable downside price seems negligible—whereas the upside potential in the short term could benefit markedly by the least bit of good news. I predicted one could pick up a 50-percent return at a fairly low risk. The stock has held steady in the $6 range, but I remain optimistic that 50-percent return will be realized in 2015. I own a bunch of it.
With planning at full steam for Indiana's bicentennial in 2016, my Nov. 24 column compared the plans, concerns, fears and prejudices of 1916 with those of our time and found how similar they were. I closed with the following:
Can we mend our state and the world over the next century? Let's hope that when our great-grandchildren celebrate the Indiana tricentennial in 2116, they will not experience bigotry, war and other maladies that have plagued Hoosiers for the last 200 years.
I spent a lot of time on that column and I am proud of the effort. You will find it here.
Thank you for reading my columns last year and for responding. I have enjoyed our dialogue. Best of luck to all of us for a healthy and prosperous 2015.•
__________
Maurer is a shareholder in IBJ Corp., which owns Indianapolis Business Journal. His column appears every other week. To comment on this column, send e-mail to mmaurer@ibj.com.
Please enable JavaScript to view this content.