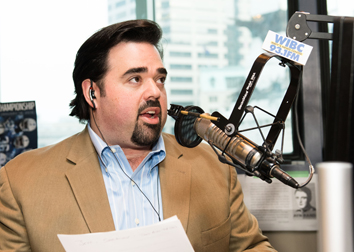 There was no shortage of radio listeners—or ad buyers—who thought WIBC-FM 93.1 would take a hit when station management replaced popular morning host Steve Simpson with the opinionated, right-leaning Tony Katz.
But not only has Katz, who took to the Indianapolis airwaves June 30, drawn a bigger audience than Simpson, he's challenging one of the most popular morning shows for the last three decades in the Indianapolis market: "The Bob & Tom Show."
After declining to renew Simpson's contract in June, officials for Indianapolis-based Emmis Communications Corp., which owns WIBC, insisted that bringing on Katz added a voice that better aligned with the station's other programming.
WIBC's lineup is headlined by conservative talkers such as Greg Garrison, Rush Limbaugh, Dana Loesch, "Chicks on the Right," Abdul-Hakim Shabazz, and now Katz. His show aired from 5 a.m. to 9 a.m. weekdays last year, and has been extended an extra hour to 10 a.m. this month.
Still, some in the market were unsure the move was a smart one.
"Steve Simpson became someone in this market people identified with and trusted," local media buyer Sue Doron told IBJ shortly after the change. "So his departure is bound to create some questions."
Listenership of WIBC during the first six months of Katz's show is up across several demographic segments. In audience size, it's rivaling powerhouse "The Bob & Tom Show," which airs from 5 a.m. to 10 a.m. weekday mornings on WFBQ-FM 94.7. Katz's early audience numbers are even surpassing Emmis managers' expectations.
Emmis local market manager Charlie Morgan said he isn't surprised that Katz was able to capture a larger audience than Simpson, but is surprised "how quickly the audience responded."
"This is nothing negative about Steve Simpson," Morgan said. "He did a terrific job and had a top five [for his time slot] show. We just needed a station that was more consistent morning, noon and night, and Tony was a better fit for our audience. In that regard, I'm not surprised at how much the [Katz] show is resonating."
In the broadest demographic measured by New York-based Nielsen Audio, which is listeners 6 years of age and older, Katz is earning an 8.5 share in his first six months. That's up over the 7.6 share that Simpson's show averaged in its last six months, according to Nielsen Audio.
One share point equals one percent of radios turned on in a particular market at that time.
And Katz's show appears to be picking up steam. During the last three months in the 6-plus demographic, it earned an 8.8 share in October, 9.8 in November and 9.7 in December, according to Nielsen Audio.
In the key drive-time slot from 6 a.m. to 9 a.m. in which Katz and "Bob & Tom" competed last year, Katz had the edge in the 6-plus demographic, pulling a 9.3 share in October, 10.3 in November and 9.8 in December, to be the No. 1 show in the market. "Bob & Tom" earned an 8.0, 8.6 and 8.9 share during October, November and December, respectively, and was No. 2 in the market.
In the overall 25-to-54 age group, Simpson's last six months and Katz's first six months both registered a 4.5 share, according to Nielsen. But among men, a traditionally strong segment for news-talk, Katz's show has fared better.
Among men 25-to-54, the first six months of Katz's show had an average share of 7.4, up from Simpson's last six months, which scored a 5.9 share, according to Nielsen.
Among men 35-to-64, the sweet spot for news-talk, Katz's first six months scored a 12.0 share, up from Simpson's last six months which earned an average share of 9.7.
Morgan acknowledges that the sometimes animated Katz can be controversial. Katz's right-leaning, pugilistic nature likely added to the uproar among local fans of Simpson, known to be more neutral on air.
"We're not in the make-you-nod-in-unison business," Morgan said. "We're in the make-you-think business. In terms of listener response [to Katz] we get a fair share of 'Amen' and 'Alleluia' response, and 'he's crazy.' But they all tune in the next day to see what he'll discuss next."
Despite Katz's opinionated take, Morgan insists WIBC's unbiased news coverage has not been diminished—and that's helped retain listeners.
For the 6 a.m. to 9 a.m. time slot in October, Katz's show registered a 14.6 share among men 35-to-64 and hit a high point in November with a 15.9 share, according to Nielsen. Both months, Katz's show was the most listened to morning show in that demographic. In December, it scored a 14.1 share, No. 2 behind Bob & Tom. During that same three-month stretch in that time period and demographic, "Bob & Tom" registered 11.9, 13.5 and 14.7 share, according to Nielsen.
In the men 25-to-54 demographic, "Bob & Tom" and Katz ran first and second in the market over the last three months, but the Q95 duo still had a sizable lead over Katz. "Bob & Tom" beat Katz in audience share in that demographic 13.6 to 9.0 in October, 14.7 to 9.6 in November and 17.0 to 8.4 in December, according to Nielsen.
Still, the gains for Katz have been eye-catching to the most important audience—advertisers.
"The increases WIBC has seen in the morning are significant, and are over a broad enough time period that they're going to catch the attention of media buyers," said Rose Durbin, vice president and media director for Indianapolis advertising agency Hirons & Co.
The gains made by the Katz show are more impressive "because the local radio audience isn't growing," Durbin said.
"[Katz's show] is stealing audience from somewhere," she said. "And that's not easy to do. Radio listeners can be pretty loyal."
Morgan thinks Katz's show has served a pent-up market demand.
"We didn't have to create a new audience, we just had to serve the audience we already had [in other time slots]," he said. "That's why I think the [listenership] increase was so fast."
Durbin thinks a number of advertisers will be attracted by WIBC's morning show increases, including sporting goods stores and teams, sports bars, music and entertainment venues, automotive companies, firms in the do-it-yourself category, and jewelry stores during certain times of the year.
"Media buyers will want to see if this trend holds," Durbin said. "If it does, the station could get increased interest from a fairly wide range of businesses looking to target men, which by the way isn't the easiest audience to reach."
Katz already has more on-air endorsement deals than did Simpson, Morgan noted.
"Those endorsements," Morgan said, "are a good barometer about how advertisers feel."
Please enable JavaScript to view this content.