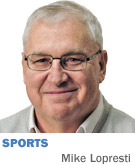 While the Colts high command continues to study another Black Sunday in Foxborough—just as the NTSB would inspect a train wreck for causes—the Super Bowl is coming. With new commercials and, we presume, fully inflated footballs.
If you can't beat 'em, watch 'em. So consider this a game guide with an Indiana motif. Fourteen things we should know about Super Bowl XLIX …
1. Andrew Luck is not playing in it. Not to be impatient after only three years of the Luck Era, but it must be noted that both Tom "Flat Ball" Brady and Russell Wilson made it to the Super Bowl that soon. So did Colin Kaepernick and Ben Roethlisberger and Joe Montana and Dan Marino. And if the Colts don't make it next year, Luck will be behind the curve of the likes of Troy Aikman, John Elway and Eli Manning. (P.S. It took Peyton Manning nine seasons. In case anyone has forgotten.)
2. Nobody older than 42 years and 11 days is playing in it. That means the one individual Super Bowl game record the Indianapolis Colts own is safe for at least another year. Matt Stover was that age when he kicked against New Orleans, and remains the oldest Super Bowl geezer.
3. Nobody wearing No. 18 will be taking the first snap. That means Peyton Manning will still be the only No. 18 to ever start at quarterback in a Super Bowl. Mamas, if you want your babies to grow up to be a Super Bowl quarterback, buy them a No. 12. With Tom "Low Pressure" Brady in Arizona, it will be the 26th time a Super Bowl quarterback has worn that jersey.
4. Neither coach won a Super Bowl as a player. So the short list of men who have both played for and head-coached a Super Bowl champion will remain at three. Including Tony Dungy.
5.  No quarterback with Indiana ties will win it, although it's happened more often than you might think. Of the 31 men who can say they quarterbacked a Super Bowl champion—or just 19 more than walked on the moon—nearly a quarter had some connection to this state. Bob Griese, Len Dawson and Drew Brees were Purdue Boilermakers. Joe Montana and Joe Theismann played for Notre Dame. Peyton Manning won his for Indianapolis, and Eli Manning won one of his in Indianapolis.
6. Jacksonville, Detroit, Houston and Cleveland are not playing in it. They remain the Super Bowless Four, as the only franchises who have never made it. Notice that half of that club resides in the Colts' very own AFC South. Matter of fact, the entire South division can claim only five appearances, and that counts two for the Colts in Baltimore. The total is one fewer than Bill "Deflategate" Belichick has achieved by himself.
7. If either team blows an 11-point lead or greater and loses, they make history. The current record is 10 points. That unhappy mark is shared by the Denver Broncos against Washington in Super Bowl XXII and—sigh—the Colts against the Saints.
8. The price of a 30-second commercial is $4.5 million. Just five years ago, when the Colts lost to the Saints, it was $2.9 million. Do they really sell that many more Budweisers now?
9. Neither Bill "Let The Air Out" Belichick nor Pete Carroll will join the select group of six men who went to the Super Bowl in their first season as head coach with the team. The last one to do that, by the way, was Jim Caldwell with the Colts.
10. If Seattle wins, 63-year-old Carroll will pass Dick Vermeil to be No. 2 on the list of oldest championship coaches. If New England wins, 62-year-old Bill "What's a PSI?" Belichick will pass Carroll to be No. 3. Oldest of all was 65-year-old Tom Coughlin. In Indianapolis.
11. Nobody will probably average more than 10-1/2 yards per rush. But if they do, they will break the oldest individual game record on the Super Bowl books, by Baltimore's Tom Matte in 1969. Yes, once upon a time, the Colts could run the ball.
12. The Seahawks are 2-0 in Super Bowl coin flips. The Patriots are 2-5. Care to take a guess who has the worst Super Bowl coin toss record, at 0-4? Hint: Horse footwear adorn their helmets.
13. Both the Seahawks and Patriots are past Super Bowl champions. That means the list of franchises with trophies will stay at 19. But five of them—the Steelers, 49ers, Cowboys, Packers and Giants—account for 24 of the 48. Precisely half. But none of those five have won a Super Bowl in two different cities. Only two franchises have done that. The Oakland/Los Angeles Raiders and … well, you know.
14. Indianapolis is neither participating in this Super Bowl, nor hosting it. If you had to bet your mortgage, which will happen again first?•
__________
Lopresti is a lifelong resident of Richmond and a graduate of Ball State University. He was a columnist for USA Today and Gannett newspapers for 31 years; he covered 34 Final Fours, 30 Super Bowls, 32 World Series and 16 Olympics. His column appears weekly. He can be reached at mlopresti@ibj.com.
Please enable JavaScript to view this content.