Josh Poertner, a Zipp Speed Weaponry engineer who helped prove bicycle fanatics would pay $3,000 for a pair of aerodynamic wheels, has turned his Steve Jobs-like obsession with technology and design to the lowly tire pump.

Poertner's new company, Aeromind LLC, in July rolled out a bike pump priced at a stunning $450. And contrary to the doubts of even his closest associates, they're beginning to sell.

The 37-year-old is finding that not only will mechanics and retail shops shell out unheard-of sums for elegant, reliable pumps, but enthusiasts will, too—as will Christmas shoppers and fiances looking for surprise bachelor party gifts.

"We are certainly our own market," he said. "There is no one close in price.

"People are willing to pay for stuff that works. People are willing to pay for stuff that lasts."

Poertner's audacious strategy might be counterintuitive, but his instincts are honed by obsessing about bikes from childhood. Having raced in the United States and Europe, he joined Zipp in 2000 fresh out of Vanderbilt University.

Zipp, now owned by Chicago-based bike component maker SRAM Corp., continues to develop streamlined, lightweight composite wheels for racing and weekend warriors.

During his 13 years with Zipp, Poertner played key roles in wind tunnel testing—research that at times required supercomputers—to vanquish dreaded turbulence that can throw riders from their steeds without warning.

As he considered the next stage of his career, Poertner was approached by the aging owner of Silca, an iconic Italian company known for its durable bike pumps. Claudio Sacchi thought his friend might know someone interested in buying the company. Instead, Poertner himself closed the deal—just days before Sacchi died of cancer.

Sacchi had gradually replaced metal parts with plastic to compete with inexpensive pumps made in China, undermining his competitive edge and causing the company to wilt, leaving Poertner with a revered name but little else.

"We're sort of like a startup with a brand," he said.

No compromise

A year after the August 2013 acquisition, Poertner was on the market with the SuperPista Ultimate Floor Pump (while adding such accessory items as upgraded vintage Japanese chucks that allow Olympic race teams to inflate tires to a rock-like 300 pounds per square inch).

Poertner loathed the bean-counting "race to the bottom" that had flooded the market with pumps looking like they were worth $100 but that too often failed within months.

Poertner knew he could build a nearly perfect pump. But would people pay for it?

Assembling a prototype and figuring in markups absorbed in the sales chain, Aeromind would need to charge $500 to achieve margins of existing high-end pumps, the most expensive of which approached $160.

"A number beginning with four-hundred is hard enough," he recalled thinking. "A number beginning with five ... "

Poertner wants buyers, for their $450, to experience the quality, function and aesthetics he sees in Apple products.

He kept Silca's signature leather plunger, which compresses the air in the tube. Soaked in a medical-grade silicone oil, the plungers seem to last forever, and they move easily. Also carried over from Silca is a precision brass valve pin.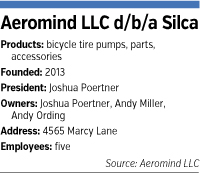 Poertner added a heavy base to keep the pumps from tipping over and designed a space for cleated bicycling shoes to rest. Elastomer rubber pads derived from pricey German furniture won't scratch floors.

A high-tolerance bushing also sourced from Germany guides the plunger rod up and down. The hose, based on racecar brake lines, swivels at both ends for convenience. Swing the chuck past the base and the chuck magnetically snaps into a rest safely away from feet and car tires.

The pressure gauge is guaranteed to be accurate within 1 percent versus the standard 5 percent—precision that affects performance, particularly for tires with silk sidewalls.

A handful of local companies, mostly specializing in high-tolerance machining for racing, medical and aerospace, are among 27 suppliers.

Poertner also brought a critical eye to design and paid for extra machining to create a look at once both vintage and futuristic. The knuckle where the plunger rod and Indonesian rosewood handle meet receives several processes to achieve varying textures, for example.

Poertner—like Jobs ambidextrously talented with technology and design—kept the design work for himself. Photographers gravitate to the knuckle, he said proudly.

Creating a new market

Poertner was accustomed to defending his strategy right up until the industry's main trade show, Interbike, this past September. Silca's tiny booth was stuck in a corner, but the obscurity didn't last long.

He hadn't planned to attend the gala awards ceremony, but coaxed by prominent cycling journalist "Zap" Espinoza, a stunned Poertner found himself stepping onto the stage in the cheapest polo shirt he could order with Silca embroidery—and accepting Best in Show.

Poertner won't disclose sales figures, but said the exposure led to shops' ordering their first models, then their customers wanting them, too.

Signature Cycles, a suburban New York City shop that bills itself as the world's largest custom bike dealer, bought one for itself and has sold about two dozen since.

Owner Paul Levine compared SuperPista buyers to people who appreciate the difference between a watch and a finely crafted "timepiece."



However, because the pump is so durable, it will need to be improved, perhaps by making the gauge even more accurate, to attract repeat buyers, he said.

Poertner has two other challenges, Levine added. Buyers must be educated about the value of precise tire pressure in ride and performance, and competition from manufacturers experimenting with tire pressure monitors inside wheels must be met. After all, Levine said, riders want consistent pressure, not necessarily a pump.

And with a storied brand like Silca, he said, Poertner needs to keep one foot in tradition and the other in the latest technology—not an easy feat.

In Broad Ripple, The Bike Line Inc. owner Charlie Revard bought one of the pumps to air tires for demonstration rides. Bike Line has sold one, but Revard said lingering memories of the recession make customers cautious about spending money.

Yet, some people weary of broken pumps will buy a SuperPista, he predicted. So will others.

"I kind of see it as somebody who is going to be a little more particular about what they have," he said.

Dr. Tom Fischer, a local hand surgeon, received one as a Christmas gift from his wife, Marybeth, and was shocked to learn it originated in Indianapolis.

"I just didn't envision something as stylish as this pump made in the United States. It has Italian design written all over it," Fischer said.

But he said he's more impressed with the function, comparing the pump to his huge but practical Campagnolo wine corkscrew.

Bike-savvy investors

Poertner has landed two investors familiar with the industry.

Orchard Capital LLC Managing Partner Andy Miller was an early investor in Zipp parent Compositech Inc., and was first to support Aeromind.

Next in was Andy Ording, who owned Compositech from 1992 until selling it to SRAM in 2007.

Zipp sold the experience of bicycling on top-performing wheels, Ording said, and Silca will thrive in the same niche with its pumps and eventually other elite products.

Charging $450 for a pump is in line for an industry routinely pricing shorts at $500 and carbon fiber handlebars at $1,500, Ording said.

Poertner said he doesn't particularly fear knockoffs.

Any intelligent person could re-create the SuperPista in days, he said, but they need a second key character trait: the guts to avoid compromise.

"What's hard to re-create is writing the check."•