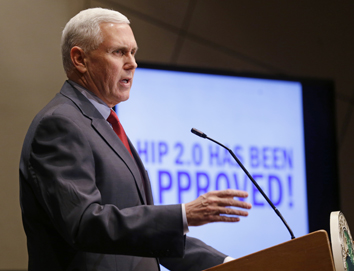 Federal officials have approved Indiana Gov. Mike Pence's plan to provide health insurance to lower-income Hoosiers, despite provisions that require some participants to pay part of the premium.
The state and federal government have been in negotiations on the plan since summer.
Coverage under the expanded Healthy Indiana Plan – dubbed HIP 2.0 – will begin as early as Feb. 1 for individuals who qualify and sign up. As many as 350,000 Hoosiers are expected to qualify.
The plan would apply to all non-disabled adults ages 19-64 who earn between 23 percent and 138 percent of the federal poverty level. That means a maximum income of no more than about $16,000 annually for an individual and $33,000 for a family of four.
The U.S. Health & Human Services Administration required only a small change to the plan, according to the Pence administration. That was lowering the minimum monthly contribution to $1 from the $3 for HIP Plus, a plan that includes dental and vision insurance.
The contributions are based on a sliding income scale and can reach as high as $25 per month.
The approval is a big win for Pence, who had resisted expanding traditional Medicaid as called for under the federal Affordable Care Act.
After the U.S. Supreme Court ruled two years ago that Congress couldn't require the Medicaid expansion, some states began proposed hybrid programs that used federal dollars in new ways. But Pence's HIP 2.0 goes further than others in requiring participants to contribute financially, which led to months of negotiations with federal officials.
"I'm pleased to see Indiana once again leading the way on finding state-driven solutions to our health-care challenges," said Indiana Senate President Pro-Tem David Long, R-Fort Wayne. "The agreement announced today by the governor is a move away from the broken Medicaid program and toward a consumer-driven model that includes more ownership and personal responsibility in participants' health-care choices."
Pence announced the approval Tuesday during a speech at the St. Vincent Ruth Lilly Conference Center at the Marten House in Indianapolis.
The program will be funded with existing cigarette tax revenue – which supports the existing HIP program – plus hospital assessment fees and Medicaid dollars.
"This will help drive down health insurance premiums paid by insured Hoosiers and eliminate the 'emergency room as primary care' approach," said Senate Minority Leader Tim Lanane, D-Anderson.
What's in the plan?
HIP 2.0 will provide three plans for low-income Hoosiers: Employer Benefit Link, Plus, and Basic. The options are meant promote personal responsibility and consumer behavior.
Each plan includes a Personal Wellness and Responsibility, or POWER, account that patients use to help pay for deductible expenses.
The Employer Benefit Link plan provides financial support to members who wish to access employer-sponsored insurance options. The plan gives Hoosiers greater choices and increases access to providers while encouraging the use of existing private insurance options.
Individuals who are deemed eligible can pick an employer-sponsored plan that they think works best for them. The enrollment in this plan is optional.
The Plus plan is a consumer-driven Medicaid alternative for Hoosiers with incomes below 138 percent of the federal poverty level. It is available to all members who make their monthly POWER account contributions, which range from $1 to $25 per month. Members and the state jointly fund a $2,500 POWER account, which members contribute to based on an income scale.
Plus offers enhanced benefits, such as vision and dental services and includes comprehensive prescription drug benefits. It also covers maternity services with no cost-sharing during the duration of the pregnancy.
The Basic plan is the default for Hoosiers that fall below the 100 percent of the federal poverty level and fail to make required POWER account contributions. It requires co-payments for all services.
Basic plan members will use the state-funded POWER account to cover their $2,500 annual deductible. There is a reduced benefit package and a more limited prescription drug benefit.
The basic plan will provide incentives for members to be more cost-conscious and to recommend preventive care services.
Please enable JavaScript to view this content.