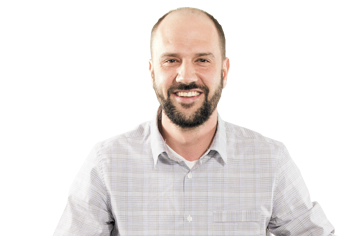 CEO, Bean LLC
Kernels of truth: Matt Ewer, owner of Bean LLC, the parent of Green Bean Delivery, had his first agriculture-based job at age 8. That's when he started loading sweet corn from his family farm onto a wagon and taking it around Marion to sell.
Farming out: After earning an Indiana University degree in environmental management, Ewer worked for an organic farm in Bloomington, then jumped to Seattle for five years, working up to general manager for Full Circle Farm. He ran its Community Supported Agriculture program, helped organize harvest schedules, and coordinated sales with dozens of restaurants. While organizing Internet orders to Alaska, he realized the potential of mixing technology and fresh-food delivery. "That's really where my bread and butter is today," he said.
Home cooking: Wanting to come back to be near—and to start their own—family, Ewer and his wife returned to central Indiana and saw "a gigantic hole in the market." With a vision of farm-to-table product via Internet ordering, they launched Green Bean Delivery in 2007, expanding to Cincinnati in 2009; then Columbus, Ohio; Louisville; St. Louis; and most recently Nashville, Tennessee. The Green Bean line now includes over 1,500 grocery products.
Taking stock in produce: "It's a perishable product with fluctuating market value," he said. "I consider fruit and vegetables like the stock market. There are hot deals and bad deals." And there are changes in taste. Consumers, he's happy to report, keep getting more receptive. "When we started, people would see kale and say, 'Isn't that what's on the side of the plate at Denny's?' But so much has changed, thanks to shows like 'Top Chef'. Those shows have had a real impact, opening up people's minds."
AGE 36
Hometown:
Marion
Family: wife, Elizabeth; children Isabella, 4; Jesse, 2
Planting seeds: Green Bean Delivery has grown into Bean LLC in an effort to vertically integrate the company, incorporating farming, warehousing and distribution. "We're trying to build viable solutions for a semi-broken food system," he said. While growing the company, Ewer has also donated more than 500,000 pounds of fresh produce to Gleaners Food Bank and Second Helpings. "They get a lot of non-perishables," Ewer said. "We like to put something out there that's a little healthier. We believe that's important no matter what your walk of life."•
Please enable JavaScript to view this content.