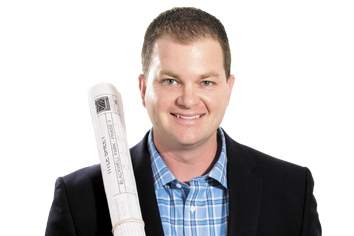 partner, Old Town Design Group
Starting young: Taking classes at IUPUI at age 15 might have been jumping the gun for Justin Moffett ("I wanted to be an adult faster than maybe I should have"), but go-getting proved effective in the long run. After experimenting with small businesses and studying at Indiana Wesleyan University, Moffett found his niche as a partner in Old Town Design Group.
Upside of the downslide: "The recession almost helped our business," said Moffett, who guided downsizers to Carmel's growing downtown. "We sold out within our first year. Within two, we had more clients than we had lots and development possibilities."
Howdy, partners: Partnering with Jeff Langston proved "a lucky break," Moffett said. "He does the things well that I don't." The two recently brought on a new partner/general counsel, Andrew Greenwood, for the same reason. "We partner to our weaknesses." For instance? "I'm not really great at crossing the T's and dotting the I's," he said.
AGE 35
 
Hometown:
Carmel ("I never made it out of the neighborhood.")
Family: wife, Jennifer; sons Jackson, 7; Marcus, 5; Fletcher, 2; Levi, 1
Location, location, etc.: The belief that "home buyers would respond to classically designed, craftsman-style homes in walkable locations" put Old Town Design Group on a steep sales trajectory—to $15 million last year and an anticipated $30 million this year. Old Town is under contract to manage over $40 million in commercial and apartment construction in 2015.
Rooted in Carmel: "I can't go for a walk on the Monon without running into five clients," said Moffett, who lives in the same neighborhood where he grew up and serves on the Carmel Historic Preservation Commission. "It keeps you conscious of the quality of the work you are producing and how you treat people."
Learning to lead: Moffett credits a John Stahl-Wert program, The Serving Leader, with helping him learn to lead. "I recognized that [employees] spend a good chunk of their lives dedicated to our company's dreams," he said. "We owe it to our team to make it as great a work experience as possible." Moffett took inspiration from his ministry work in Central America and created what is now The Orchard Project, in which a home is built in Nicaragua or Costa Rica for every two homes Old Town builds in Indiana. Next year, he said, "we're hoping for another 40 in Carmel, which means 20 in Central America."•
 
Please enable JavaScript to view this content.