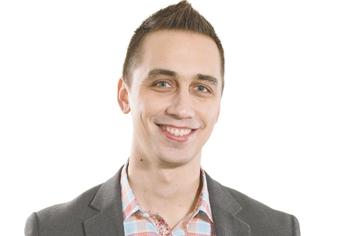 associate research professor, Indiana University School of Medicine
When I'm (using my) 64: Daniel Vreeman remembers, from his childhood, when his father brought home a Commodore 64 computer. Allowed to experiment with it, he built a database to keep track of his baseball card collection.
Finding fellowship: Later, interest in computer science and technology merged with medicine and biology, taking Vreeman to Cornell University, to Duke University for a doctorate in physical therapy, and to Indiana University for a post-doc research fellowship at the Regenstrief Institute. There, he was thrilled to discover others interested in studying the use of computers in health care. "I'm not just a freak," he realized. "This is a whole field."
Applied science: At Regenstrief, it didn't take long for Vreeman to realize how much things could be improved in health care by more judicious use of computers and information technology. He now directs development of a medical vocabulary standard called LOINC (Logical Observation Identifiers Names and Codes) that enables the exchange and aggregation of clinical results using universal codes.
LOINC? "Yes," Vreeman said. "It rhymes with 'oink.' We adopted a pig as our mascot."
AGE 36
Hometown:
Grand Rapids, Michigan
Family: wife, Lorrie; children Gavin, 6; Miles, 4; Beckett, 1
Why LOINC matters: In most of the world, recording of medical data in computers features idiosyncratic codes. Human beings can connect them, but computers have trouble with the variances. LOINC provides a universal language. "If I get an LDL test at Community Hospital, then go to St. Vincent, now those two tests can be plotted together." His hope is that, within 20 years, every computer system that shares, exchanges or aggregates health data will use this standard.
Batting 1,000: As a principal investigator, every grant he has submitted has been approved, building to $16 million in external funding. He has collaborated on other projects totaling more than $40 million in research dollars. With 29 scientific papers published, Vreeman has become an internationally recognized expert in clinical data standards, giving more than 100 lectures worldwide.
Square deal: In addition to past board work with the American Physical Therapy Association and the American Medical Informatics Association, Vreeman helped his sister, a pediatrician also on the IU faculty, launch The Pocket Square Project, which helps support kids with HIV. He also plays bass guitar at East 91st Street Christian Church and Christ's Community Church in Fishers.•
Please enable JavaScript to view this content.