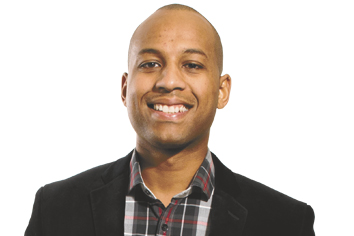 executive director, The Excel Center
Training daze: High school junior Joe White's football team had a great season and recruitment letters poured in. Figuring he was set, White cut back on training. The next year, his team stunk and the letters stopped.
White got back in the game at Earlham College, helping break records his junior year. ("Even [a pro scout from] the Patriots came to watch," he said. "And in Indiana, that's like the devil walking into church.") Once again, though, he didn't train well and history repeated.
"The biggest lesson I learned through athletics is to always prepare for transition," White said. "You can be good where you are, but you have to prepare for what's coming next."
To the head of the class: Hired out of Earlham College, White served as a third grade instructional assistant at a Richmond charter school. But midway through the year, the dean resigned and, at 22, White got the gig. After a year, White returned to Earlham for a master's in teaching. While there, Ivy Tech Community College approached him about teaching an adult class—which meant that, over the course of two years, White taught elementary, high school (through his teaching residency) and adults.
AGE 29
Hometown:
Richmond
Family: wife, Michelle; daughter, Jada, 8
Opportunity to Excel: At a job fair, White saw students flocking to Hamilton County school booths—but not to one for Indianapolis Metropolitan High School, a charter school run by Goodwill Industries of Central Indiana. White took the initiative and, while there wasn't a job at Metropolitan, he soon was hired for the Excel Center, a new kind of school Goodwill was developing. The Excel Center would focus on older youth and adults who had dropped out. By year three, Excel opened its first school outside of Marion County—in Anderson—and White, by then a lead teacher, became school director. Soon he was promoted to executive director for all the Excel Centers. Under his guidance, Excel has grown to nine schools with 2,900 students. This year, 600 are expected to graduate. Two more locations are set to open in the fall, with Shelbyville and Muncie in the works for 2016. Austin, Texas, is already licensing the program, with others set to follow.
On-the-job learning: "The key to serving students effectively," White learned, "is to develop relationships. Dig to the core of what's triggering certain behaviors. Education is the key to elevating out of their challenges and issues. And we have to help them do that by first creating a reliable and trustworthy environment." Resting on success, though, is not an option. "I'm always thinking, 'OK, that was good. But how do we do it better?' I'm always in a continuous improvement mode."•
Please enable JavaScript to view this content.