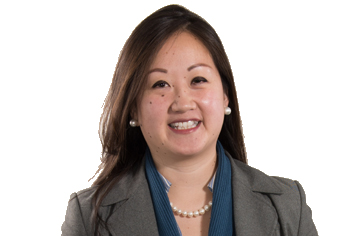 general manager of medical solutions and vice president of business development, Telamon Corp.
Department? What department? As a Purdue University undergraduate, would-be law student Sunny Lu Williams changed gears after studying at the London School of Economics. She wound up with an MBA instead of a law degree and landed work at Telamon Corp. "I thought there would be a marketing department to work with," she said of the company that offers solutions for telecommunication networks, business process outsourcing, energy management, industrial assembly and telehealth. But when she got in, she found out she was the marketing department. Now, as vice president of business development, she's built alliances with Google and HTC, created a joint venture with Qatar to export U.S. health IT solutions to the Middle East, and created a distribution partnership with Taiwanese original equipment manufacturers.
Expert advice: When speaking to MBA students, Williams stresses the value of fostering relationships and respecting cultural differences—"Are you willing to step out of your comfort zone and really understand the culture?" A soon-to-be-announced new market, she said, required "a year and a half of flying back and forth and Sunday morning conference calls to build that trust. Our partners have met our families. We've flown there and met theirs. There's an accountability, not just on a business level, but also on an interpersonal level. That's the only way successful international business can be done."
AGE 32
Hometown:
born in Taipei, Taiwan; grew up in Naperville, Illinois
Family: husband, Rob
Oh, and … : "You have to get great attorneys in both languages who really understand how both legal systems work."
Generational lessons: She learned the value of noblesse oblige from the generations before her. "My grandparents literally came out of the rice paddies of China," she said. After success in business, they made sure she appreciated her privilege. For Williams, that meant carefully researching philanthropic and board options before immersing herself in work with United Way of Central Indiana, Women's Fund of Central Indiana, and the Indiana University Kelley School of Business.
Under the sea: Williams finds stress release in scuba diving. "It's incredibly therapeutic," she said. "I always come out of a dive feeling completely recharged and renewed." She also enjoys cooking and will sometimes get off a 12-hour flight and proceed directly to her kitchen to whip something up.•
Please enable JavaScript to view this content.