We long ago passed the point where a graphic novel is considered merely kids' stuff. In 2014, according to Publisher's Weekly, graphic novels made up one of the two fastest-growing segments of the print-book market for adult readers while also being one of only two fiction segments in the troubled book world that experienced any increase in sales at all.

Yes, super heroes and other fantasy tales dominate the form, but there's much more. Just consider the work of Bloomington's Nate Powell.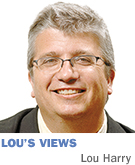 Powell's most recent book as an illustrator, the vivid, moving "March: Book Two" (Top Shelf Productions), continues the first-person story of Georgia congressman John Lewis, the last living of the "Big Six" civil rights leaders. The graphic novel form enhances rather than trivializes its subject, offering a rich look at Lewis and others who helped our country take a big step toward its potential. The fact that a comic book about Martin Luther King Jr. inspired the young Lewis gives the book another layer of resonance.

In the two volumes (the third is scheduled for 2016), Powell deftly uses space, knowing exactly when to fragment his frames, to offer a full-page image, or to minimize text in order to make an image resonate. Powell, Lewis, and co-writer Andrew Aydin embrace the complexity of the movement, resisting "great men of history" posturing and instead paint a picture—actually, a book full of pictures—of people of conscience taking steps into dangerous, uncertain territory.

The series isn't Powell's only exploration of the civil rights movement. In "The Silence of Our Friends" (published by First Second), he helps tell the lesser-known story of a volatile racial confrontation in 1967 Houston as seen through the eyes of Mark Long, whose father was a local news reporter at the time. Like the "March" books, it's a page-turner.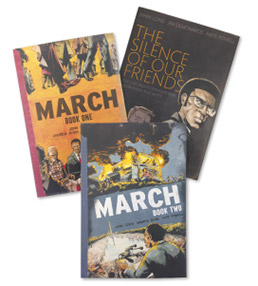 Nate Powell's books illustrate a turbulent era.
Reading those opened the doors for me to two books Powell both wrote and illustrated. The stunning "Swallow Me Whole" (Top Shelf Productions) is the story of two step-siblings each experiencing delusions and other issues. Both are aware of their illnesses, and the book delves into how impossible it is to separate these from regular adolescent angst. Powell uses dark spaces (in one case even blackening an entire page) to take us into his tormented characters. While there's deep sadness in the book, its inventive truthfulness offers insight into the world of mental illness unique to the graphic novel form.

A different set of kids are the protagonists in Powell's "Any Empire" (Top Shelf Productions), a story of war, suburban life and turtle mutilations. I'll admit this one left me baffled—impressed and engaged throughout, but baffled—even after a re-read.

Those are just some of the projects for the prolific Powell. He recently illustrated "The Lost Hero," by Rick Riordan (of Percy Jackson fame). A collection of shorter comics, "You Don't Say," is due in May. He's illustrating a 10-issue comic series, "Two Dead," with writer Van Jensen and has another graphic novel of his own, "Cover," for 2018.

Powell also provided animated illustrations for the documentary "Selma: The Bridge to the Ballot," which will be distributed to more than a million students in 50,000 schools in March.•

__________

This column appears weekly. Send information on upcoming arts and entertainment events to lharry@ibj.com.