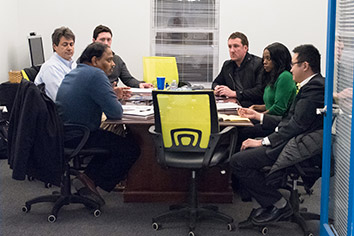 Serial entrepreneur Gerry Hays wants to bring the drive-through concept to grocery stores.
It won't involve lighted menu boards or intercom systems, just smartphones. Using a mobile application, Hays said, consumers will be able to order quality meals ready for pickup at prices 30 percent below traditional prepared-food establishments.
"They offer value, but they don't offer convenience," Hays, CEO of Better Retail, said about grocery stores. "We're trying to solve the convenience problem."
But before Hays and his upcoming app DinnerCall can attempt to solve that problem, his company has some internal challenges that need resolving. "How should we commercialize it?" and "What's the best way to engage consumers?" are among the big questions lately, and Hays has asked students at Indiana University's Kelley School of Business for help.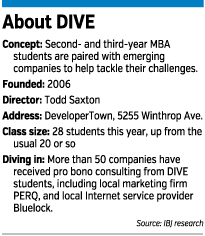 "We would have probably engaged some outside consulting firms," Hays said, had it not been for the opportunity with the Kelley students.
Hays' company is one of about 10 seeking business advice this year from students in Kelley's DIVE program, which stands for Discovery, Innovation and Ventures Enterprise. The program, now in its 10th year, is based on the concept that startups can get free, sound guidance from second- and third-year MBA students, and the students get a unique opportunity to participate in early-stage entrepreneurship.
DIVE's focus on startups puts it in rare company among schools across the country, said Linda Livingstone, chairwoman of the Association to Advance Collegiate Schools of Business and dean of the business school at George Washington University. She said it's part of a growing effort to bridge the gap between the classroom and the real world.
"At AACSB, we talk about three things: innovation, impact and engagement," Livingstone said. "These types of programs are innovative, they engage students, they engage the business community, they have an impact on the learning perspective, and they have an impact on the businesses."
Startups turn to students
The program is exclusive to evening MBA students at the Kelley campus in Indianapolis, many of whom have day jobs. Students range from the 24-year-old who went straight into the master's program after college to the 54-year-old seasoned professional looking for a change.
Companies run the gamut, too, from pizza chains to pet-supplies producers.
DIVE clients this year include some well-known names. ExactTarget co-founder Chris Baggott is looking for some help with his latest venture, a food-related company called HUSK. And former Indianapolis Colt Marlin Jackson—known for his game-clinching interception that sent the Colts to the Super Bowl in 2007—is seeking advice for his not-for-profit Fight for Life Foundation Inc.
It works like this: Each year, students get pitched by the companies in a format akin to ABC's "Shark Tank." But the companies are after well-wrought advice, not money.
Some companies don't get picked by any students. For those that do, the students spend a semester or longer diving in and crafting suggestions for tough problems.
Indianapolis-based Mobilify Technologies Inc., for instance, is trying to figure out pricing strategy. Founded in January 2014, the digital health company has a smartphone app on track to be the first smoking-cessation app approved by the U.S. Food and Drug Administration, CEO Adam Knotts said. The firm has no revenue yet.
Knotts, 28, and his business partners Kigho Emenike, 31, and Chris Huff, 24, want to get insurance companies to reimburse employers for deploying the app. But the field has few price benchmarks.
"One of the biggest questions we've been trying to solve over the past couple of months is: What can we reasonably charge for this application?" Knotts said. "We know it provides value, and we've done all the ROI calculations. But at the end of the day, what will somebody pay for this?"
Real-world difference

Saxton
DIVE was co-founded by Todd Saxton, an associate professor of strategy and entrepreneurship at IU who's had stints in academia, startup executive teams, angel investing and consulting over the past 20 years.
As a professor in the early 2000s, he noticed an increasing interest by MBA students in either starting their own business or joining young, high-growth companies. He said those students tended to have idealistic, but naive views of what happens with startups.
Business-plan writing classes can't help much there, Saxton said.
"It's kind of like teaching somebody to play football by watching tape, having them throw a ball into a net and saying, 'All right, now go play for the Colts,'" Saxton said.
"The difference between what's taught sitting in a classroom and what happens in a real entrepreneurial journey—the amount of uncertainty and types of uncertainty—is huge."
The first DIVE cohort was in 2006, and since then the program has seen more than 200 students engage in months-long consulting projects with roughly 50 startups. Saxton compiles the companies from various sources.
Over the years, Saxton said, he loosened guidelines so the students can nimbly adapt to the needs of the business. Externally, he said, the program has gradually become part of the venture ecosystem in the Indianapolis area.
Mixed outcomes
Some of the startups that used DIVE, like deal-sharing app-maker RewardSnap, never took off. Some, including Indianapolis-based SonarMed, have fared well. The biotech company has raised $5 million in venture capital since 2010, including $1.3 million this year.
George Klein pitched his customer-feedback business to DIVE students in 2013 when it was still just an idea. Peoplocity now has a fully operational mobile app, some seed funding and a few adopters.
As for students, Saxton said some go on to work for the companies they advise, and others become entrepreneurs. Saxton said his favorite outcome is when a former DIVE student gets "embedded in the venture community, goes out to start their own thing, and then comes back and becomes a DIVE client."

Cross
Amanda Cross, 37, a 2011 DIVE alumna, said the program had a sizable impact on her career. She runs a company called Crosswise Consulting, and at the time of her DIVE project she was a manager at ExactTarget.
"At that point in my career," she said, "it was a complete mental shift to even realize that entrepreneurship was a feasible career path.
"Of course you hear about people who start companies that become Goliaths. But when you've always been employed by big companies, it's hard to really get your head around the fact that any person can hang out their shingle and build their career on their own terms."•
Please enable JavaScript to view this content.