Advertising paying off for Hamilton agency
Visitor spending in 2014 resulting from regional advertising initiatives by Hamilton County Tourism Inc. exceeded $100 million, a 42-percent increase from 2013, according to a study recently released by the agency.
Carmel-based Strategic Marketing & Research Insights Inc., which counts many of the biggest U.S. convention and visitor associations as clients, conducted the annual study to measure the success of HCT's campaigns.
The report revealed visitors spent $225 for every dollar the organization spent on advertising in 2014, compared with $158 for every dollar in 2013.
About 193,000 household trips in 2014 can be attributed to the efforts, resulting in more than $105 million in visitor spending, the study found.
Hamilton County Tourism spent 36 cents per household in 2014, compared with 65 cents in 2013. Hamilton County Tourism spent $468,000 on print, radio, television and digital media targeting Chicago; Champaign, Illinois; Louisville; and Fort Wayne. Digital advertising initiatives also allowed the organization to extend to South Bend and into Dayton and Cincinnati, Ohio.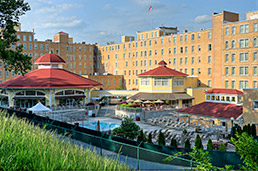 French Lick Resort's expansion includes conference and event spaces. (Photo courts French Lick Resort)
French Lick Resort unveils$20 million expansion
Officials for French Lick Resort in southern Indiana on Jan. 15 unveiled a $20 million, 58,000-square-foot expansion to the resort's 109,000-square-foot conference and event center.
Construction began in October 2013, and concluded last month.
The expansion makes the facility the largest privately owned meeting space in the state, French Lick Resort officials said. The Meeting and Event Center now features 27 meeting rooms and amenities, including:
• 31,600-square-foot Exhibition Center
• 22,600-square-foot Hoosier Ballroom
• 12,700-square-foot Windsor Ballroom
• 6,700-square-foot Clifton Ballroom
• 18 breakout rooms
• free high-speed wireless Internet
• updated audio-visual equipment
• concierge services
• on-site floral and decor professional
• complimentary resort-wide shuttle and trolley service
• free valet parking
Winter diving championshipscoming to Indianapolis
Indiana Sports Corp. recently announced it will host USA Diving's 2015 Winter National Championships at the natatorium at IUPUI.
The event, expected to attract 125 of the country's top divers and more than 3,500 spectators, will be Dec. 15-20.
The natatorium had been selected as the host site of the 2016 U.S. Olympic Team Trials for Diving. USA Diving will partner with the ISC on both events.
The natatorium is considered one of the best swimming and diving facilities in the United States, having hosted Olympic trials in 1984, 1988, 1992, 1996 and 2008.
"The 2015 Winter National Championships will be an extremely important competition for USA Diving as we continue our preparations for Rio 2016," said USA Diving CEO Linda Paul. "Having the Winter Nationals in Indianapolis will allow our athletes an opportunity to familiarize themselves with the venue in advance of the 2016 U.S. Olympic Team Trials."
The 2015 Winter National Championships will be of particular importance, as the meet will double as the U.S. selection trials for the 2016 FINA World Cup. The World Cup, to be held in Rio de Janeiro, marks the final opportunity for countries to earn their qualifying spots into the 2016 Olympic Games.•
Hendricks tourism grantsno longer require match
Changes are in store for a 7-year-old grant program that funds local projects to attract visitors to Hendricks County.
Visit Hendricks County's Tourism Enhancement Development Fund has helped fund several projects and events, including helping the Hendricks County Historical Museum improve its website; funding a study to determine the feasibility of moving the Oasis Diner within Plainfield; and launching the Mud Soap Run, Hendricks County Half Marathon and Indiana Short Film Festival.
Previously, Visit Hendricks County required the fund recipients to come up with a dollar-for-dollar match. A new component this year will not require a match for requests up to $500. Requests for more than $500—with a $2,500 cap—still necessitate matching funds.
"We don't want to leave anyone out, especially someone who needs a little seed money to turn a great idea," said Sarah Ferguson, Visit Hendricks County's director of marketing.•
—Anthony Schoettle
 
Please enable JavaScript to view this content.