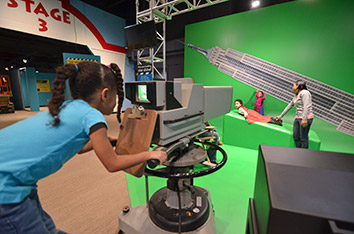 The adult me wasn't thrilled to hear that The Children's Museum of Indianapolis' 2015 is dominated with pop-culture exhibitions—including tributes to Transformers, Hot Wheels, and Teenage Mutant Ninja Turtles, as well as the new "Inside Hollywood Film & TV: You're on the Set!" (through July 26).
"If you can dream it, you can be it" goes the old saw. But until "American Idol" gives a record contract to everyone who auditions and every kid in the world gets his own Disney Channel series, should we really be pushing media fame and fortune as hard as we do? Surely there's more value in kids interacting with the faux construction equipment, the electronic glass blowing, and the build-your-own-arch elsewhere at the esteemed institution than in playing Hollywood star.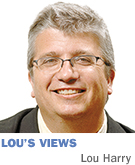 On the other hand, I was once a kid who dreamed Hollywood dreams, who circled not-to-be-missed shows in TV Guide, and kept a notebook listing every movie I saw. And that was before celebrity gossip was treated as serious reporting and all media became overrun with entertainment "news."
So I get it.
Given the subject, the Children's Museum's design team has done a solid job in putting together a fun exhibition. Would-be Supermen and Wonder Women can don a cape and be part of a green-screen special effect (even more fun: using the green material to give yourself an on-camera disembodied head). There's a set where a script from "The Monkees" or "I Dream of Jeannie" can be acted out (the old-school choices clearly an effort to make this a multigeneration-pleasing exhibit). Here and in an interactive game show area, museum staffers lead programs throughout the day.
Side note: applause to the staffers who interact, inspire, and clean up after the army of kids who patrol these exhibitions daily. I've never seen the remarkable team here being anything but lively and encouraging.
Props borrowed for the exhibition are a mixed bag. It's fun to see the contrasting "Annie" dresses from the original musical and the 2014 remake, and the "Hook" items—including a camouflaged skateboard—are fun even if you aren't a fan of the movie.
Costumes from "Bewitched" and "Happy Days" might make adults nostalgic, while older kids might look back fondly on those bygone days when Tobey Maguire's "Spider-Man" swung from cinematic rooftops. I'm guessing nobody cares much about the 1998 "Godzilla" movie, although the big-guy's on-display eyeballs are pretty cool.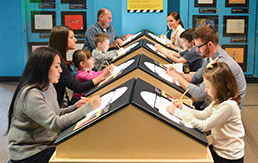 Visitors experiment with simple animation techniques. (Photo courtesy of The Children's Museum of Indianapolis)
But the array of weapons from the "Men in Black" movies might be better suited to an NRA convention. And, doh! There should have been more detail in the Simpsons living room photo spot. Or at least a baby Maggie Simpson to bounce on your knee.
To be fair, the exhibit doesn't insist that every kid has to yearn for stardom. Dress-up options include being part of the behind-the-scenes crew. Creative kiosks allow visitors to apply their own anonymous voiceovers to a "Scooby-Doo" scene. There's also an animation station, representing a hand-drawn style rare in today's TV and movie world.
And, who knows, maybe one of those kids will actually become a star. In the meantime, a lot of them should have a lot of fun.•
__________
This column appears weekly. Send information on upcoming arts and entertainment events to lharry@ibj.com.
Please enable JavaScript to view this content.