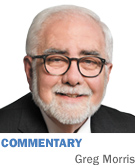 Kathleen Spears is president and CEO of the Madame Walker Theatre Center. She was an IBJ class of 2012 Forty Under 40 honoree, when, at the time, she was 37 years old and CEO of Cancer Support Community Central Indiana.
We talked briefly recently at a reception for the 2015 class of Forty Under 40 honorees, and the conversation reminded me of all the great things going on at the center.
The Madame Walker Theatre Center exists to advance the legacy of its namesake (Madam C.J. Walker) through art, entertainment, cultural education, youth empowerment, entrepreneurship and civic engagement.
The center is a lot more than just a theater, or the last surviving iconic building on Indiana Avenue, or a building listed on the National Register of Historic Places. The Walker building was once the headquarters and manufacturing plant of Madam C.J. Walker Hair Care and Beauty Products. While the building's history is significant, I think more than anything the center represents hope. And hope can be in short supply these days.
Spears says it best in a letter to the community: "Hope is that very powerful unseen force that motivates us to do extraordinary things even in the worst of circumstances. Through cultural arts and education, the Madame Walker Theatre Center's programs instill hope in the thousands of people who walk through our doors regardless of their walk of life."
Here's just one example of the type of inspirational programming at the center that instills hope. As part of the celebration of Dr. Martin Luther King Jr.'s life in January, Sarah Collins Rudolph was in town and spoke to a crowd of 500 at the Madame Walker Theatre about her very challenging life experience. At age 12, Rudolph was with her sister, Addie Mae Collins, when a bomb exploded in the 16th Street Baptist Church in Birmingham, Alabama. The 1963 bombing killed her sister and three other girls, and Rudolph was seriously injured. White supremacists committed that horrific terrorist act. It shocked the country and moved Congress to pass the historic 1964 Civil Rights Act.
The center hosts many special events over the course of a year, but it has regular programs, too. Those include Art on the Avenue—First Fridays, Throwback Thursdays Cinema and Jazz on the Avenue.
Lou Harry, IBJ's A&E editor, included one of the Walker center's events in his top 15 arts picks for 2015: Macy Gray appearing on April 18. The Grammy Award winner for Best Female Pop Vocal Performance (for "I Try"), Gray will be the featured performer at the 2015 Spirit Awards.
"It's great to hear that a big name is booked at the woefully underused Madame Walker Theatre Center," Lou said in his column.
If you can, go see Macy Gray, or take a tour of the facility. Guided tours include a brief 10-minute video. Visitors are encouraged to take pictures on the historic stage, where musical greats such as Nat King Cole, Duke Ellington, Ella Fitzgerald and Gladys Knight performed. You can even rent the Madame Walker Theatre, the grand casino ballroom or memorial boardroom for your event.
What I didn't have space to cover in this column is the grand history of Madam C.J. Walker herself. It's truly an amazing American success story. Tim Evans wrote a nice piece for The Indianapolis Star this month: "Madam Walker paved way for generations of black, female entrepreneurs." I recommend giving it a read.
Congratulations to CEO Kathleen Spears, the board, staff and volunteers for all the great work being done at the Madame Walker Theatre Center. You can help support their efforts by visiting, making a donation or volunteering your time. Your support is greatly appreciated.•
__________
Morris is publisher of IBJ. His column appears every other week. To comment on this column, send e-mail to gmorris@ibj.com.
Please enable JavaScript to view this content.