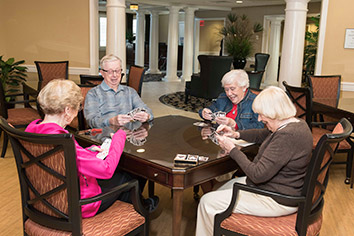 BHI Senior Living, an Indianapolis not-for-profit that's spent more than half a century serving retirees, could be poised to go from incremental to exponential growth—all thanks to the aging of the baby boom generation.
In addition to two HUD-subsidized apartment complexes, BHI operates three so-called continuing care retirement communities, which offer everything from independent living to nursing home services: The Towne House in Fort Wayne, Four Seasons in Columbus and its crown jewel, Hoosier Village in Zionsville.
BHI also has big expansion ambitions for the 434 acres it owns in and around the Golf Club of Indiana in Whitestown, which it acquired more than a decade ago.
Growth is pretty much a given, considering that by 2030 the number of people 65 and older is set to double, creating an estimated 71 million older Americans—or 20 percent of the U.S. population.
All those seniors will need places to stay, and BHI plans to cater to them.
"They want first-rate amenities in terms of exercise facilities and dance studios and swimming pools," said John Dattilo, 46, BHI's new president and CEO. "Those are things they weren't asking for 15 or 20 years ago."
His company is in a strong position to expand right along with its core demographic. But it wasn't always so.
The organization began in 1904 as a church-sponsored orphanage called Crawford Baptist Industrial School, on 185 donated acres where Hoosier Village now sits. From 1905 to 1951, more than 1,500 kids called the complex home.
But the property's use changed after orphans started going to foster homes instead of orphanages, and the number of older adults climbed. In 1951, Crawford Baptist Industrial School became Indiana Baptist Home. The last of the kids were shipped out and the first old folks shipped in.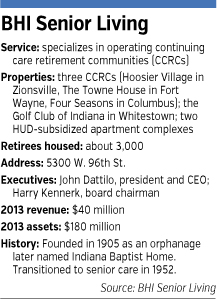 The recession of the early 1980s dealt the aging facility a financial body blow. When Dick Keenan, 70, who just stepped down as CEO, arrived in 1982 to lead Baptist Homes of Indiana (as BHI was then known), it served fewer than 300 residents and was approaching insolvency.
"In 1982, we were in a very difficult position," Keenan said. "We were in noncompliance with all of our credit agreements. We had very little capital—about $170,000 in cash. Our buildings were in bad shape, and our operating costs were extremely high, in part because of expanding building maintenance."
He renegotiated BHI's debt, brought in a new management team, and focused on increasing occupancy and lowering costs by updating the facility's physical plant.
The organization's first order of business was to set a profit goal of 6 percent to 8 percent of revenue, a target it's consistently reached over the last 30 years, Keenan said.
"Our second goal," he said, "was to gradually expand by pre-selling a set number of residential units, then building them and increasing cash flow from operations."
Financial firepower
What a difference three decades makes. At his retirement, Keenan put down the reins of an organization that serves more than 1,000 residents and boasts $200 million in assets, $40 million in annual revenue, and $60 million in cash.
Although BHI has $92 million in debt, $40 million of it amassed over the last four years to fund expansion projects, the company has a "conservative debt structure," Fitch Ratings said in a report. The rating service said it expects "operating performance to remain strong as the additional projects are completed and come online."
Now it falls to Keenan's successor, Dattilo, to keep things rolling.
It's not a slam dunk. The retirement business is very complex and capital-intensive. And as the number of retirees grows, so does the number of companies catering to them.
"The entry into our markets of a significant number of competitors is making the landscape a little more difficult to navigate," said Dattilo, who joined BHI as vice president of operations in 2008.
Newcomers are, indeed, entering the business, including locally based Aegean LLC—which built Muncie Senior Living, Greenwood Senior Living and Madison Park Senior Living in Anderson, and now is developing Martinsville Senior Living.

Keenan
Meanwhile, established players are upping their game. For example, Marquette, the huge retirement village on Township Line Road that opened in 1979, several years ago completed a $55 million renovation and expansion.
Despite the alluring market, more than 80 percent of continuing care retirement communities are operated by not-for-profits. That's because the communities, which are designed to care for seniors through the remainder of their lives—from their relatively healthy, ambulatory 70s all the way to their final days—are expensive to build (as much as $200 million) and present complex management challenges. It's essentially a combination hotel/apartment community/restaurant/hospital.
"Because of their size, CCRCs can be slower to build, slower to finance and slower to renovate than some of the smaller communities," said Elizabeth Ecker, editor of the trade publication Senior Housing News. "They're bigger projects by their very nature."
Competitive edge
In the race for retirees, BHI possesses a noted advantage over competitors. Its crown jewel, Hoosier Village, is ridiculously huge. Its wooded, 300-acre campus makes it far larger than the typical CCRC.
"This campus, with its size and the amount of green space it includes, is something that our competitors just don't have," Dattilo said. "The space allows us to do things that other retirement communities just can't."
Including launching a construction boom that would make the pharaohs proud. Hoosier Village recently completed the first portion of $32 million in upgrades that include a memory support center for dementia patients and a 20,000-square-foot community center with indoor pool, fitness center, spa, art studio and multiple exercise rooms.
Also part of the project is construction of Hawthorn Hall, a 100-unit apartment complex that includes all the modern amenities seniors covet, like two on-site restaurants and apartment kitchens tricked out with granite countertops and stainless steel appliances.
And in a bow to the realities of CCRC living, the building also conceals a parallel set of hallways where health care personnel and equipment can shuttle around without unnecessarily reminding residents of their own mortality.
BHI's other properties are also ramping up. The Towne House in Fort Wayne recently opened its own memory support center and is breaking ground this spring on a major expansion. Four Seasons in Columbus completed a renovation in 2014 and is planning to add its own memory support center.
BHI also is expanding outside the senior business. It has earmarked 270 acres in Whitestown for residential and commercial development. The land is part of the 430-acre Golf Club of Indiana, which BHI bought in 2011. It already has renovated the course and is building an event venue.
Hoosier Village currently offers 90 duplexes, 51 independent-living apartments, 100 licensed residential independent/assisted-living apartments, 36 memory care suites and a 77-bed skilled nursing center. But there's still plenty of room for wooded areas, biking and hiking trails, and lots more housing.
Dattilo said today's seniors prefer stand-alone accommodations that mimic their former homes, and BHI aims to please by building more Hoosier Village duplexes.
Residents don't actually buy the dwellings. Instead, in exchange for a large upfront "entry fee" and additional monthly payments, they're entitled (depending on the arrangements) to continued care at the facility until death.

Dattilo
Because of this business model, CCRCs can be battered during economic downturns. Retirees usually put together their entry fee by selling their homes, and if the housing market is in the dumper, that can be tough.
To no surprise, 2009 was far from a banner year for BHI—though operators in other parts of the country, where home prices fell more sharply, took a harder hit.
"We're still kind of recovering from the recession, so there's a little bit of variation across the country," said Steve Maag, director of residential communities at LeadingAge, a national organization representing not-for-profits providing senior services.
In addition to continuing development of properties BHI already owns, Dattilo will have an eye out for acquisitions. All while looking for ways to cater to baby boomers.
But he figures the big rush is still a few years off. Those notoriously independent former flower children won't crowd into retirement communities the minute they cash their final paychecks.
As a result, it could be a while before any sort of CCRC boom begins. Which could come back to bite some of the industry's eager-beaver newcomers.•
Please enable JavaScript to view this content.