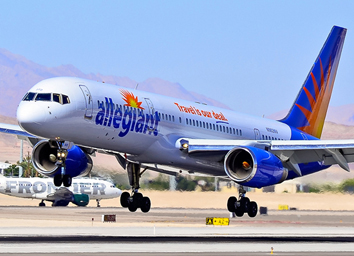 Allegiant Travel flies most of its routes twice a week, and the planes on average are 22 years old.
Those wouldn't be an airline's top selling points in a highly competitive travel market, but, as anyone who has priced flights out of Indianapolis knows, there is room for competition here. That's why Allegiant, which used to stick to the smallest, most underserved airports on the map, is branching out to medium-size cities like Indianapolis.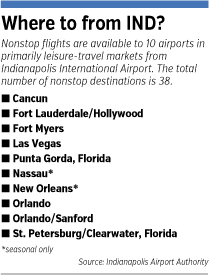 Since last fall, the low-cost leisure-focused carrier has announced seasonal service to Las Vegas, New Orleans and four airports in Florida. Indianapolis International Airport CEO Mario Rodriguez hopes Allegiant's arrival sparks a revival in leisure travel and helps reverse a years-long decline in annual passenger enplanements—the number of people boarding flights—at IND.
Rodriguez said airport officials are in talks with fellow low-cost carriers Spirit Airlines, JetBlue and Virgin America, and he'll have good news to announce soon.
"We have a couple of surprises in the future, and an announcement in the next month or so," he said. "It'll change the route map in a positive way."
Allegiant faces zero competition on the vast majority of its route map, but in places like Indianapolis, Jacksonville, Florida and Cincinnati, the airline is willing to compete with Southwest, as well as peers like Spirit.
"Airfares in those regions are incredibly high," said Jude Bricker, senior vice president of planning at Allegiant. "People in Indianapolis are responding real well to the product."
Allegiant kicked off service here Feb. 5 with a flight to New Orleans. It will be the only airline offering nonstop—though limited—service on that route. In Florida and Las Vegas, however, Allegiant will compete either directly or indirectly with Southwest and Delta. Most of Allegiant's Florida destinations are to secondary airports not served by Southwest—Orlando Sanford International, St. Petersburg Clearwater International and Punta Gorda Airport.
Southwest's merger with AirTran is a big factor in Allegiant's move to medium-size cities, Bricker said. Before the 2011 merger, many Indianapolis residents flew to Florida through AirTran's former hub of Atlanta, he said.
"Southwest has higher costs than AirTran did," Bricker said. "A lot of the markets AirTran had served are going to be deserted or over-priced."
All the low-cost carriers are using a similar strategy, following the wake of major-airline consolidation, said airline stock analyst Joseph DeNardi at Stifel Nicolaus in Baltimore. Though low-cost airlines are existing side-by-side in some markets, he said they aren't fighting over the same destinations.
Net passengers
While Allegiant would love to see former AirTran loyalists at its Indianapolis International Airport gate, Rodriguez hopes the Las Vegas-based airline draws brand-new travelers.
"They're capturing a market that otherwise wouldn't have been captured," Rodriguez said.
That's a reasonable expectation, DeNardi said, because Allegiant's strategy is to stimulate new travel. It's been doing that for years with a presence in cities as small as South Bend, where it's flown since 2005.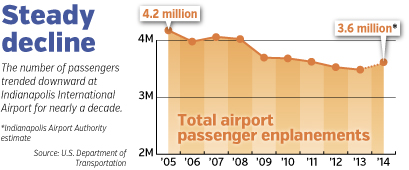 "They're not going to be taking market share," DeNardi said. "I would think that passenger growth in that market would go up."
Enplanement at IND began dropping in 2008, when it was around 4 million, and continued through 2013, when it was just under 3.5 million, according to U.S. Department of Transportation data. The final figures aren't in for 2014, but Rodriguez thinks it will show a 3-percent increase.
Rodriguez thinks Allegiant will add to the growth trend in 2015, though to what extent will depend on its ticket prices.
IND's passenger count is important because it drives spending throughout the facility, from parking to concessions. Parking alone is a huge source of revenue, budgeted at $37.7 million in 2014. Parking was a bigger revenue line item than airline landing fees or rented space. (Allegiant's presence will also bring the airport about $1 million in additional direct revenue.)
Most airlines need constant flying to justify a route, but that's not Allegiant's strategy. The company, in which management owns 20 percent of the shares, keeps costs down, even with limited-frequency schedules, by using older airplanes.
The "secret sauce," Bricker said, is Allegiant's fleet of MD-80s, a type of jet that went out of production in 1999. Allegiant has added newer Airbus jets to its fleet in the past two years, but the company still keeps a relatively low amount of cash tied up in airplanes.
Allegiant doesn't get the best customer-service reviews. Allegiant pioneered tacked-on fees, which apply to everything from choosing one's seat to a bottle of water. The company also doesn't keep backup planes at its originating gates. So if a flight gets canceled, and it's the only one going out that week, there goes vacation.
Rodriquez
Allegiant's promotional pricing of the New Orleans route was $85 each way. To reinforce the cheap-vacation vibe, Allegiant kicked off the service with a free-ticket drawing for people who showed up two hours before the flight with bags packed.
Speaking with IBJ before the Feb. 5 launch, Rodriguez said, "Everybody has got to temper their expectations. The pricing is equivalent to the customer service you're going to receive … but you're going to get there safely, and you're going to get there on time."•
Please enable JavaScript to view this content.