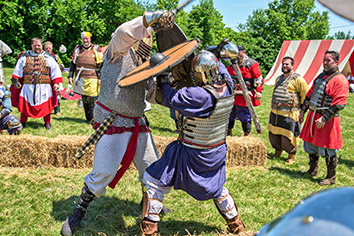 In a little more than 16 months, the Hendricks County Fairgrounds will be transported back in time 500 years or so.
Hendricks County recently beat out sites in Alabama, California, Missouri, Pennsylvania and Texas to land the Society for Creative Anachronism's 50th anniversary celebration.
The SCA is a group of more than 30,000 people from around the world who train, re-enact and compete in activities from the Middle Ages. The organization's website says it "is an international organization dedicated to researching and re-creating the arts and skills of pre-17th-century Europe."
During 10 days in June 2016, the SCA will transform the entire fairgrounds into a scene out of medieval Europe, complete with feasts, dancing, blacksmithing, jousting and archery competitions.
Around 5,000 SCA members are expected to descend on the fairgrounds west of Indianapolis, said event organizer and SCA member Mike Hobbs. Fairgrounds officials expect SCA members to set up more than 2,000 campsites.
"We expect a broad spectrum of people—not only from across the country but internationally from Australia, Germany, Sweden and Turkey—to be here for this event," said Josh Duke, Visit Hendricks County communications manager.
The bid for the 50th anniversary gala was initiated by local SCA members with support from Visit Hendricks County and the Hendricks County Fairgrounds.
"We're central to a lot of their members, so that was attractive," Duke said. "We also have a facility big enough for their event and we had the camping and other amenities they were seeking. In addition to all that, coming to Hendricks County is a really good economical choice for them."
While it's the first time Hendricks County has hosted such a massive SCA event—it will host two smaller SCA events this year as a warm-up—local hospitality officials are projecting an economic impact near $3 million. SCA officials believe it could be $5 million or more.
"Hendricks County can expect to see lots of people during those 10 days in their grocery stores, restaurants and around town in their Middle Ages garb," said Hobbs, with a laugh. "Don't be surprised if you see some Mongols in Walmart."
Hobbs, who is a stockbroker for an Indianapolis firm by day, was introduced to the SCA 28 years ago when he was invited to an event while in graduate school.
"I was hooked," he said. "I loved the garb members wore, the history behind it, and the people involved were super friendly."
Going to an SCA event is a bit like going to "a living history museum," said Tobi Beck, a 32-year SCA member and co-organizer of the event in Hendricks County.
"The first time you see it, it's really breathtaking," said Beck, a local information technology director. "You see all aspects of activities from the Middle Ages—from cooking, weaving and woodworking to hound coursing [a type of hunting with dogs], jousting, fighting and melees."
SCA members even have their own language, including many phrases imported from Middle Ages Europe. The talk can be a bit confusing at first, members warn, but fear not, there's an SCA dictionary on the group's website decoding such terms as "troll booth" and "bardic circle."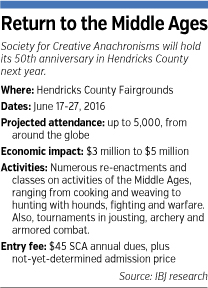 Events at the gathering include myriad classes and competitions. The combat competitions are especially popular, Beck said.
"Where else can you put on a full suit of armor and wail on your friends?" Beck said. "It's full-speed, full-contact martial arts. It does require quite a bit of training."
Beck said her suit of armor weighs more than 60 pounds and some are up to 80 pounds.
"They can be incredibly awkward to move around in, but once you get used to them and train in them, it becomes easier," she said.
Though SCA events have been described as GenCon with a Middle Ages twist, SCA members say their gatherings are not all fun and games—and the events are not meant to be freak shows.
"It's not a medieval fair," Beck said. "We're all about learning history by re-creating it. The SCA allows you to learn by doing something rather than just studying it in a book."
The event in Hendricks County is for members only, but Beck said an annual membership is only $45. There also will be an admission charge—likely one-day tickets and a week-long pass—but the prices have not yet been determined.
The SCA was founded in 1966 by Diana Paxson, a University of California medieval-studies graduate. She used her graduation party to stage a themed gathering that would give rise to the SCA.
The name Society for Creative Anachronism was coined by science fiction author Marion Zimmer Bradley, an early SCA member, when the group needed an official name to reserve a park for a tournament.
An anachronism is "a thing or person that belongs to an earlier time," according to the Merriam-Webster dictionary.
"Some people might think this is all ancient history," Beck said. "But we think it's too important a time period to forget. So we work to creatively keep it alive."•
 
Please enable JavaScript to view this content.