Tiffany Turner and her husband, Steve Young, have spent most of their adult lives as restaurateurs. But recently the couple—who own Lulu's Coffee & Bakehouse and Midday Deli & Catering—embarked on a venture that's taken them far from their food industry comfort zone.

In July, they bought Kennedy Hardware, a three-decade-old enterprise residing in a nondescript, easy-to-miss Zionsville industrial park. While the company's name might not ring a bell with most folks, it's a superstar in its sales niche—supplying highly specialized bits of hardware for rehabilitating antique furniture.

The company carries more than a thousand esoteric, hard-to-find items, including latches for old trunks, wood castors, locks for curio cabinets and skeleton keys. Lots and lots of skeleton keys.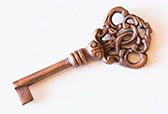 Kennedy Hardware regularly stocks about 10,000 skeleton keys. (IBJ photo/Eric Learned)
All these mostly tiny, mostly one-of-a-kind gewgaws help Kennedy generate about $750,000 in annual sales. Though the store gets a handful of walk-in customers each day, most of that cash comes from Internet traffic.

"We get customers from as far away as Australia," Turner said.

But here's the rub. While the store relies heavily on cyber sales, its technology and business model are woefully antiquated. Which leaves Turner and Young with the task of bringing a business that caters to 19th-century furniture enthusiasts into the 21st century.

The story began in 1983 with the store's founders, Zionsville residents Phil and Phyllis Kennedy. When Phyllis and her husband got into antique restoration as a hobby, she started accumulating (and then reselling) the pieces of hard-to-find, excruciatingly specialized hardware sometimes needed for the job.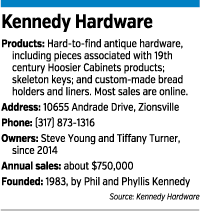 At first, she kept the inventory on a shelf in her garage. But when the business took off, the Kennedys moved to the store's current location. So things went until 2013 when the couple, now in their 70s, decided to retire. Turner and Young were among the first to get the news, because they were—and remain—the Kennedys' next-door neighbors.

After months of research, the couple bought Kennedy Hardware. It was, to put it mildly, a big transition. Young, 42, and Turner, 39, knew how to manage restaurants, but this was apples and oranges.

"It was a giant leap," Turner recalled. "It was another business and a new thing to learn."

The new business enjoys one important advantage over the restaurant trade—its inventory never spoils. That's a good thing, because Kennedy keeps an immense amount of stock sitting on its shelves so that orders—perhaps 60 a day flow in—can be quickly filled.

Plenty of people pine for their products. Jerome Vernon, publisher of Antique Restoration News, figures there are some 26,000 antique restoration shops across the United States. Vernon guestimates it's a half-billion-dollar business.

"This goes all the way from people who recondition a few pieces basically as a hobby, and then sell them at flea markets, to high-end conservators working on museum-quality pieces," he said.

The size of Young's and Turner's orders ranges from thousands of dollars for thousands of parts to a single piece for a single restorer. Those small orders can be problematic because the folks who call the store looking for a particular piece are often aged, hard of hearing and computer illiterate.
Built-in flour sifters were a component in the unique design of Hoosier Cabinets. Kennedy Hardware repairs or rebuilds the sifters and other hardware for the Indiana-made cupboards. (IBJ photo/Eric Learned)
And yet odds are good that Kennedy has it—somewhere. For instance, the shop carries pretty much every bit of hardware used for Hoosier Cabinets—a line of once hugely popular, Indiana-made kitchen cupboards. Some of those bits, including metal ant traps placed on the legs, built-in flour sifters, and a spinning spice rack, are either made in-house or farmed out to local craftsmen.

But that's not the end of the oddities. The store also keeps bins of slot-topped, non-galvanized iron screws. This is a big deal to furniture restorers because most screws these days are coated in shiny, corrosion-resistant zinc. They're very durable, but if you put one on a piece of period furniture it stands out like a gold tooth on a grandma.

Getting those screws is quite an involved process. Turner and Young have to import galvanized, slot-topped screws, then have the zinc removed and the screws oiled so they don't rust.

Other one-of-a-kind wares include sliding wooden tambour doors, which are made to order in the store's back room; tin panels for pie safes, with designs hammered into them by Amish craftsmen; and custom-made zinc or stainless steel bread drawers and inserts.

"As far as we know, we may be the only folks who produce custom, any-size bread drawer liners," Young said.

But nothing sells quite as well as skeleton keys. Kennedy keeps about 10,000 in stock because so many customers want them for non-lock-related reasons. A candle company attaches them to some of its candles, an insurance firm bought 5,000 for a promotion, and real estate agents hand them out to potential clients.

"When people buy them, they tend to buy a lot of them," Young said.

Given the amount of merchandise the store moves, it's easy to forget that it caters to a very small slice of a very large pie. The overall U.S. retail home improvement industry posted nearly $323 billion in 2014 sales, with much of that going to behemoths such as Lowe's and Home Depot. But little guys also grab a lot of that lucre, said Dan Tratensek, publisher of Indianapolis-based Hardware Retailing Magazine.

"There are still something on the order of 30,000 independent home improvement operators in the U.S.," he said. "Independent pharmacies and toy stores and bookstores saw their categories devastated. That's not been the same case in the home improvement industry."

The reason, he said, is that myriad mom-and-pops specialize in some way, or offer locally focused lineups the big boys can't match.

"There are so many companies out there that specialize in little narrow slices of something," Tratensek said.

Turner and Young seem quite snug in their own hardware niche. The next step is to bring their store into the 21st century by updating its antiquated front office.

How antiquated? The inventory and accounting systems use a hoary old bit of software called Peachtree 98. Invoices, shipping, billing and credit card data reside in separate, non-networked computers, which necessitate much yelling from room to room for information.

The trick is to get new technology in place without causing a hiccup in service.

"I think it will probably take us another year to get the systems in place like they should be," Turner said. "It's a new industry to us."•