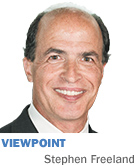 Seldom is being average something to strive for, but with regard to Indiana's school funding formula and how it affects my school district and many others throughout the state, just being average would be an improvement.
I am a parent of a child educated in Zionsville public schools and CEO of a health care company that depends on quality education for its workforce. I believe a strong public school system is critical to having a vibrant community and developing successful future employees.
Tragically, however, Zionsville and other higher-performing Indiana school systems are bearing the brunt of a broken school funding formula that leaves well over 175,000—nearly one in five—Hoosier schoolchildren far below the state average in per-pupil funding.
The formula results in absurd differences of thousands of dollars per student between highest- and lowest-funded public schools and millions of dollars in funding between school corporations with comparable numbers of children.
Examples are found all over the state: In southern Indiana, Southwestern Jefferson Consolidated School Corp., with an enrollment of 1,261 students, gets $7.9 million in state funding while Southeast Dubois County School Corp., also with 1,261 students, gets $6.5 million. At the top of the size spectrum, Carmel Clay School Corp. receives $73.8 million in state funding for its 15,337 students, while nearby Metropolitan School District of Wayne Township pulls in $96.8 million from the state with a smaller enrollment of 14,892.
Batesville, West Lafayette, Munster and Barr-Reeve are all lowest-funded, too, along with several fast-growing suburban communities in Allen, Hamilton and Boone counties.
In total, the deficit is over $100 million per year. Not one shred of accountability exists for local uses of so-called "complexity" money redistributed in this "robbing Peter to pay Paul" scenario.
And the formula does not even count as per-pupil support the millions in federal funds flowing to Indiana's highest-funded school districts.
The negative consequences of this broken formula on many of the highest-performing school communities in Indiana are well known—exploding class sizes, teacher layoffs, and loss or stagnation of much-needed programs.
All of these consequences have been realized in the Zionsville School Corp. over the past several years. In addition, retaining and recruiting quality teachers will continue to be a significant challenge for the schools most hurt by the unstable formula.
It is good to attempt to bring stability through differentiation where high poverty exists. However, it also destabilizes the lowest-funded schools.
The Indiana Fix-It Coalition, made up of nearly 30 school corporations that are among the highest-performing districts academically yet receive the fewest dollars per pupil from the state's school funding, advocates fair funding and is working to create awareness of the statewide nature of the formula. Similarly situated school boards, towns, chambers of commerce, parents and community members from around Indiana are seeking equitable funding through legislative change.
The General Assembly must seize the opportunity to ensure each Hoosier school child is receiving the kind of elementary and secondary education that will foster development of tomorrow's business leaders. The unintentional harm caused by the broken formula forces financial instability and decline of student offerings in some of the highest-performing school districts in Indiana.
Attracting and retaining quality businesses in Indiana is imperiled by the formula.•
__________
Freeland is CEO of Cancer Care Group and an advocate of the Indiana Fix-It Coalition. Send comments on this column to ibjedit@ibj.com.
Please enable JavaScript to view this content.