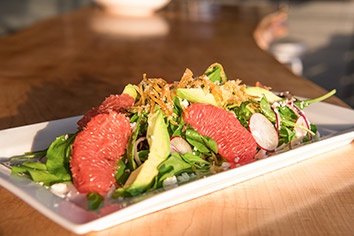 Many dining establishments stay open late. But too often, those same places treat late-night diners as an inconvenience to be cleaned around rather than taken care of. Menus may be truncated. Brooms are put to use. And the wait staff eyes you with the "I've had a long day" look.
The situation at Tinker Street (402 E. 16th St., 925-5000), the latest culinary endeavor from Peter George (of Peter's Restaurant fame) and Tom Main (Puccini's Smiling Teeth), is different. Wonderfully different.
After catching a play, we arrived at 11 p.m. (The cottage-like Herron Morton Place bar and eatery serves until midnight on Fridays and Saturdays.) Welcomed, never rushed, and not witness to any employees taking care of the business of closing, we experienced an enjoyable, leisurely meal in the intimate, bustling new spot. We were even tempted to stick around after dessert for a drink.
The fact that the food, crafted by chef Braedon Kellner, late of the Alexander, was excellent helped as well. When you go, just be prepared for very modest portions.
After being welcomed with a complementary taste of moscato (cheers!), we started with the delicious Fried Brussels Sprouts ($7), shredded and mixed with dukkah spice—an Egyptian blend of toasted nuts and seeds—and Dijon vinaigrette. Equally pleasing was a Ruby Grapefruit Salad ($11) with avocado, live arugula, feta and forbidden rice, a nutty dark-purple variant said to once have been served only to emperors. Perhaps I'm a bit of a Philistine, but I couldn't help but feel that the Hearty Bread ($4) with bay leaf butter and garlic confit should have been gratis.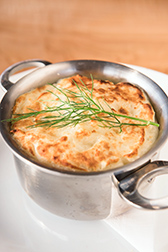 Stout Beer Braised Lamb Cottage Pie. (IBJ Photo/ Eric Learned)
The entrees were equally flavorful but not significantly larger. Diver Scallops ($19) offered a trio of the shellfish, enhanced with fennel, pear and white tea. Heartier, relatively speaking, was the Stout Beer Braised Lamb Cottage Pie ($17), a crock of thick, shepherded goodness. Other entrees include Pastured Pork Belly with Kimchi, Wild Steelhead Trout and Pan Fried Natural Chicken with Collard Greens, with none topping $19.
When the overall quality of a meal is this strong, I can't resist dessert. The "Twinkie" ($7), served with coffee cream, pecan and toffee, tasted like a chef's challenge to upgrade the base snack food item. Interesting, but not something I'd go back for. The Pot de Crème S'More ($6), however—a confection where hickory and ash provide a subtle, wood-fired flavor to the marshmallowy treat—stood proudly on its own. Don't be surprised if you're tempted to lick up whatever your spoon wasn't able to reach.•
—Lou Harry
Please enable JavaScript to view this content.