Gov. Mike Pence wants to create an $85.6 million fund to help metro areas improve their quality of life, a new kind of economic development strategy for a state that historically plays up low taxes and highway access.
The governor's budget proposes to create the Regional Cities fund under the Indiana Economic Development Corp., which spent the past two years studying how other metro areas, such as Durham, N.C., and Austin, Texas, became magnets for talented workers.
The House Ways and Means Committee passed a bill Feb. 16 that sets out details of the Regional Cities initiative, but the funding for the next two-year budget cycle beginning July 1 could change through budget negotiations.

Doden
"We'd like to have at least two regions gain a national brand," IEDC President Eric Doden told the House committee.
The money would be granted to just two regions every two years. The competition has leaders from the Ohio River to the Michigan border hiring consultants and powwowing in preparation to submit applications by July 1.
The fact that the state's economic development leaders recognize the need to look at the health of metro areas, rather than simply making deals to lure out-of-state firms, is heartening to the Indy Chamber, which supports the bill along with the Indiana Association of Cities and Towns, lobbyist Mark Fisher said.

Fisher
"We're going to be much more successful if we grow our own population, our own talent base and our own companies," he said.
Population threat
The working-age population will abandon many of Indiana's cities and rural areas over the next 25 years, according to a forecast by the Indiana Business Research Center.
Outside of the Indianapolis area, just eight counties will see significant growth in their working-age populations through 2040, according to the forecast. Ten more counties will see mild growth or mild declines, remaining essentially neutral. All the rest will see losses in the double digits.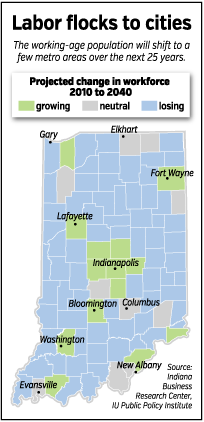 While Indiana's population has grown faster than in many neighboring states, about 80 percent of that growth is attributable to a strong birth rate, rather than migration, Doden said.
"We identified population stagnation as one of the clear threats to our deal flow in the future," he said. "We're not attracting much talent to the state."
This isn't the first time Indiana policymakers have tried to tackle "brain drain." Indianapolis-based Lilly Endowment in 2013 granted $63 million to Indiana colleges to help them keep graduates working in the state. That was on top of $57 million granted in previous years.
In reality, Indiana performs better than other states in retaining recent college graduates, according to a 2013 IBJ analysis. Census data shows that where Indiana comes up short is in attracting educated adults from elsewhere.
IEDC devised Regional Cities after in-depth study of six metro areas that had been transformed in the past 15 years. The study, conducted by Pittsburgh-based Fourth Economy Consulting, found that those metro areas had some things in common, including regional cooperation and leveraging the presence of colleges and universities.
IEDC wants to see Indiana replicate those strategies, and leaders believe the shot of capital can speed the process up to an eight-year time frame, Doden said. Those who don't win the grant in the first cycle would be eligible in the future.
After interviewing more than 100 leaders in the case-study cities, Doden said, "They believe talent seeks out energetic places."
What's the secret to that energy? Officials in Manhattan, Kansas—another of the places IEDC officials visited—can attest that it's not mountains or oceans. Beyond that, IEDC would leave it to newly created regional development authorities to come up with the answer. The only requirements are that plans be big and comprehensive.
Local governments will be required to match the state's grant, and there must be private investment. The applications must include a portfolio of 50 to 70 projects worth at least $1 billion, Doden said.
The Michiana Partnership already has a consultant working with leaders from its four-county region on a comprehensive plan that can be parlayed into an application, CEO Regina Emberton said. The partnership covers St. Joseph, Marshall, Elkhart and Kosciusko counties.
She agreed that traditional economic development deal-making isn't working. Despite an influx of people in their 30s and 40s to the region, St. Joseph County, home to the University of Notre Dame, is still expected to lose 21 percent of its working-age population over the next 25 years.
"Population projection is not looking great," Emberton said. "We have to think about it in a different way."
Although the Indianapolis suburbs of Hamilton and Hendricks counties are forecast to grow their labor forces 50 percent or more, Fisher said most of those people will move from elsewhere in Indiana. That's not a sustainable trend for the Indianapolis area, nor for the state, he said.
"We need a healthy rural Indiana because that's our talent pipeline," Fisher said.
Big plans
Clark and Floyd counties have no shortage of projects that could enhance the region, said Wendy Dant Chesser, CEO of One Southern Indiana, the regional chamber of commerce and economic development group.
For one, the region could finish the Ohio River Greenway, Chesser said. The former Colgate manufacturing facility left 50 acres of underused property on the riverfront in Clarksville. Indiana University, Purdue University and Ivy Tech Community College have a presence in the region, but none are in an urban setting.
What if they were to create an urban campus?
"To me, that would be incredibly cool," Chesser said.
The effort to land such a large chunk of capital from the state has local leaders working together in a way they haven't before, and that is valuable, whether they win or not, she said.
Rep. Ed DeLaney, D-Indianapolis, criticized the Regional Cities initiative for creating another layer of government and work opportunity for consultants while benefiting few communities.
He voted against the bill, authored by Rep. Jerry Torr, R-Carmel, and offered an amendment, which failed. DeLaney's proposal was to use a portion of the state's $2 billion surplus to help local governments through grants, revolving loans and a revenue-sharing formula.
"I would give out more money, with fewer intermediaries," DeLaney said.
Much enthusiasm for the Regional Cities Initiative stems from the dollar amount Pence included in his budget proposal. That could be winnowed down through negotiations, however, because the money would be pulled from several existing funds.•
Please enable JavaScript to view this content.