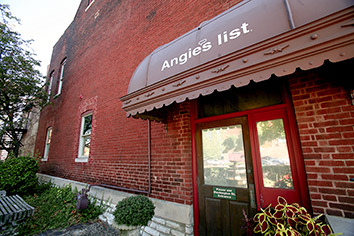 An Indianapolis City-County Council committee approved a proposal Monday night calling for the city to issue $18.5 million in bonds to support the expansion of Angie's List Inc.'s east-side headquarters.
The 7-1 vote came after questioning from council members about the consumer-review company's hiring commitment and what will happen to the city's investment if that isn't fulfilled, or if the company goes out of business or otherwise ceases to exist as a corporate citizen. The lone 'no' vote came from committee Chairman Leroy Robinson, a Democrat.
The proposal moves to the full council for a possible vote next month.
Angie's List has never turned an annual profit and last year was reportedly considering putting itself up for sale. However, the company last week reported a $15.3 million fourth-quarter profit on growing revenue and membership.
Most of the bond money, $9.6 million, will go toward construction of a parking garage to serve workers in the former Ford manufacturing building on East Washington Street. Angie's List will pay nothing for the building, which is owned by Indianapolis Public Schools. The company intends to invest $23 million in renovating it as a headquarters.
Angie's List also would own the 1,300-space garage, though as many as 500 spaces could be made available to the city if the garage is underutilized by the company.
Councilor Vop Osili, a Democrat, questioned whether the garage would be an asset to anyone but Angie's List because it would be located east of the Interstate 70, outside of downtown.
"It is solely based on Angie's List. That is a concern for me," he said. "That location is rather bothersome."
Republican Jeff Miller asked site selection consultant Larry Gigerich, who represents Angie's List, to explain the company's hiring targets and what will happen if it falls short. Angie's List has said it will hire about 1,300 more people and have 2,800 people on the payroll by the end of 2019.
In an unusual project development agreement, Angie's list will submit to semi-annual reviews of its hiring goals, and it will pay into an escrow account for any shortfall on head count or average pay, which is supposed to be $23 per hour for the new jobs.
How much Angie's List pays into escrow will depend on a formula that will be applied to the $9.6 million garage subsidy, Gigerich said. If Angie's List falls short of its goals by 50 percent, it will pay half the $9.6 million, he Gigerich said.
Mayor Greg Ballard's administration estimates that the expansion will add $1.7 million a year in property and local income-tax revenue.
The city will pay $6.75 million of the bond proceeds to IPS so it can relocate its warehouse operations.
The bond payments will be made with revenue from the city's downtown tax-increment finance fund, though the Ford building and new parking garage will not be inside the downtown TIF district.
The council's chief financial officer and policy analyst Bart Brown said the Angie's List deal, if approved by the full council, would represent the first time a company had requested and received two TIF-backed subsidies. Angie's List also received tax-increment financing money for a 2011 expansion of its headquarters campus.
A Republican candidate for mayor, Jocelyn Tande-Adande, noted that vacancy rates in downtown office towers are high and said the city has been "cutting too many deals. I don't think a private business needs $18.5 million from the taxpayer. I'd rather see that go to our neighborhoods."
Near east-side residents at the meeting spoke in support of the project.
"This is exactly what we've wanted," said Joe Bowling, executive director of the Englewood Community Development Corp. "This is an anchor property along East Washington Street."
 
Please enable JavaScript to view this content.