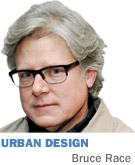 Second of a three-part series about building Indianapolis for the next century.

The public draft of Indianapolis' Bicentennial Agenda has been published. The agenda is the visioning and value statement drafted by the public for the ambitious Plan 2020 effort being undertaken by the staff of the Department of Metropolitan Development in partnership with the Greater Indianapolis Progress Committee.

The agenda is the framework for a comprehensive effort to overhaul the many documents guiding community development policy in the city. It is the product of a year of committee work and represents the first concerted effort to engage the larger community in imagining the city's future.

Last month, I used the agenda as a lens for how we should be looking at downtown. This month, I am discussing our established neighborhoods, and next month, I will focus on what we need to do to create an exceptional region.

The agenda's authors remind us that our neighborhoods are evolving, that they have unique needs and aspirations, and that their distinctiveness is an economic asset. They also remind us that "people are capital." Our knowledge workers are the most mobile part of the workforce; they connect lifestyle and employment choices. Our ability to enhance our neighborhoods' social performance is hard-wired to our economic competitiveness as a city. To compete in the next economy, we will need strategic reinvestment in all of our neighborhoods.

Evolving neighborhoods

The agenda emphasizes the economic and livability advantages of having a variety of neighborhoods. This variety provides choice for the workforce. By adding commercial and institutional services, more housing choices and access to transit, Indianapolis can compete and grow to meet the needs of the "next economy."

For example, some of our north-side auto-oriented suburbs have to be able to compete with Carmel and Fishers. Both of those communities have worked hard to add commercial and institutional services and so-called third places, those social places between work and home, to enhance their social performance. Carmel and Fishers are not freeze-dried in the 1970s.

Nationally, new neighborhoods are distinguishing themselves with amenities, not just adding bells and whistles to production housing. If I lived in Nora or other post-war auto-oriented neighborhoods, I would look for opportunities to create some mixed-use destinations, improve walking connections, and make sure I have comfortable and safe transit stops so I stay relevant.

Relevant investments

Indianapolis has historic traditional neighborhoods and several generations of post-war suburban neighborhoods. The agenda encourages public and private interventions and investments that are relevant to neighborhood needs. This is a great strategy, but requires taking the politics out of allocating resources. Rather than duplicating what we do for each neighborhood, we should be providing what each needs to thrive and evolve.

When it comes to public investment and administrative support for neighborhoods, one size does not fit all. Some near-east-side neighborhoods want investments that help stabilize housing, add local commercial and institutional services, and improve public safety. Other neighborhoods, such as Meridian Kessler, have a stable housing stock and commercial services, but instead want to focus on improving the quality of new investments with guidelines and design review.

We do not have the budget, nor is it effective, to treat every neighborhood the same. Each has different needs for infrastructure, commercial service, park space and public services. Our investment planning has to reflect the needs of neighborhoods and not be a universal thin blanket tossed over our entire city.

Cultural connections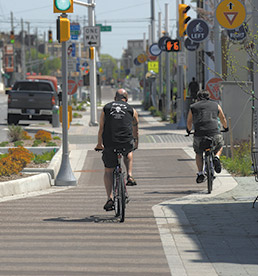 The Cultural Trail expands the network of neighborhood amenities. (IBJ file photo)
The agenda proposes improving neighborhood livability by making sure neighborhoods belong to a network of amenities, thereby sharing their strengths. This strategy is manifested in our Cultural Trail and expanding greenway system.

Most neighborhoods have something to give back to the city. The agenda pushes strategies that connect our neighborhoods' cultural assets and social gathering places. This includes linking entertainment districts like Broad Ripple and Fountain Square, planning and funding arts in public places, and coordinating neighborhood event calendars to celebrate our neighborhoods.

One Indy

The agenda stresses that we invest locally and leverage the talent and passion of our people. The citizen teams that have created the agenda also want us to remember how we can come together to invest in our civic venues. The agenda's "One Indy" theme has to extend to our diverse neighborhoods, too. Each has something to add to life in the city and none should progress at the expense of another.

We cannot assume that our neighborhoods are in a static state. They are rising or declining. And, every neighborhood that is declining harms the city. All have cool places and can contribute to our prosperity in the next century. The 21st century is the century of the city. We need to be a city of great neighborhoods.•

__________

Bruce Race, FAIA, FAICP, PhD, is an award-winning architect and urban planner, owner of RaceStudio and recipient of the Indiana Sagamore Planning Award. He lives in a historic Indianapolis neighborhood and teaches urban design at Ball State University's Downtown Indianapolis Center. His column appears monthly. He can be reached at br@racestudio.com.