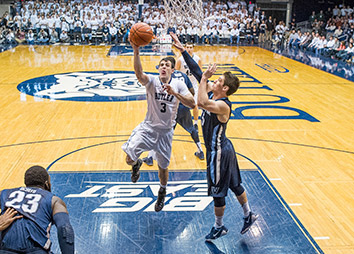 Once upon a time … isn't that how fairy tales are supposed to start?
Certainly the Alex Barlow story at Butler is one of those. From walk-on to practice player, from practice player to reserve, from reserve to two-year starter in the Big East, which is supposed to chew up guys like him. Along the way, of course, he hit a famous floater and became the Guy Who Beat No. 1 Indiana.
A fairy tale, plain and simple, right?
Ask the coach who welcomed him to Butler, Brad Stevens.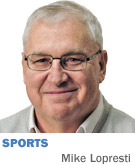 Ask an opposing coach, Villanova's Jay Wright.
"It's the perfect story of grit and determination and work ethic that gets you where you want to go.''
"It doesn't matter whether he was a walk-on. It doesn't matter what he was. He's become a great college basketball player.''
Ask his current coach, Chris Holtmann.
"The bottom line is, he's been discounted his whole life in terms of his playing ability. I think that's motivated him. What Alex has done is he's nearly maximized every ounce of his God-given ability, which is a real rarity in any endeavor.''
Ask Barlow.
"It's been an honor and a blessing. I'm just so thankful I've been able to do it. Not a lot of people who have come in as walk-ons have experienced this.''
So he's appreciated and understood the journey?
"Part of it is, I'm such a basketball nerd.''
It's about over now. The Georgetown game on March 3 is Senior Night, and Barlow will stand there at Hinkle Fieldhouse—all 5-11 of him— and say goodbye, along with fellow seniors Kameron Woods and Jackson Aldridge, who, like Barlow, have seen three coaches, three conferences and their share of curves in the road on the north side campus.
"It's going to be tough probably from an emotional standpoint, because of the ride, and everything I've been through, and everything my parents have done for me,'' Barlow said. "It'll be tough because of everything this program has done for me, and meant to me. At the same time, it'll be a happy moment, knowing all the things I've accomplished and all the things I've been able to do.''
Once upon a time … he was a high school kid at Cincinnati Moeller, where his best skills were in baseball (he hit .532 as a junior shortstop), but his heart was in basketball.
One college gave him a basketball offer—Division II Tiffin in Ohio. He had already decided on his life's calling. He wanted to be a basketball coach, so who out there would be good for a future coach to play for and learn from?
Hello, Brad Stevens.
The name Alex Barlow wasn't exactly atop the Butler recruiting wish list. "I don't remember if I saw him play live his senior year or not. That tells you right there,'' Stevens said. But he talked to Barlow's high school coach and studied some film and told Barlow he could come to Butler and walk on.
"I visited Butler. I saw Hinkle, I saw the weight room, I saw the dining halls,'' Barlow said. "That was all I needed to see.'' He told his parents he was walking on at Butler. Congratulations, that'll be more than $40,000 a year, please.
"It was a big risk, to say the least,'' he said.
"He came with the idea that he's paying for four years of college and may never play a minute,'' Stevens said. "He did that because his passion in life was to coach basketball.''
Once upon a time … there was this unimposing freshman guard at Butler, having an awful time trying to keep up.
"He was small. He wasn't the greatest athlete. At the time he wasn't as skilled as he is now,'' Stevens said. "The first couple of months it was a struggle to survive, even in practices.''
Said Barlow, "I think those words are pretty [accurate]. I just kept plugging away.''
He played under 20 minutes and scored two points the entire regular season. But when Butler ended up in the post-season CBI tournament, Stevens tried him in the lineup.
"The thing I knew is that I may get one shot to prove that I can help this team,'' Barlow said. "I just went out and played as hard as I knew how. It wasn't always pretty. I don't think I made anything outside of a layup.''
Stevens liked what he saw. 
Once upon a time … Top-ranked Indiana and Butler were tied in overtime in Bankers Life Fieldhouse. The final seconds were slipping away, when a barely known sophomore slipped inside the Hoosier defense and put up a six-foot floater that rolled in to win the game.
"It was a blur when it happened. To this day it's still a little bit of a blur,'' Barlow said. "I didn't realize at the time how big of a shot it was. It still lives with me. I get reminded of it a lot. It's going to be a good memory I'll be able to tell my kids and grandkids.
"Very few people knew who I was. You go back and listen to ESPN and the announcers are saying 'former walk-on.'''
No, the day that shot went in, Barlow and his parents were still paying Butler for the chance to beat Indiana. Now, his mother has a display of artifacts from that game. 
Suddenly, Alex Barlow's career would never be the same. "Other coaches would at least know who I was, other than the last guy on the scouting report who comes in and just plays hard on defense.''
There was also the day his sophomore season that the Bulldogs won at Dayton 79-73, in the arena where Barlow started attending games when he was 5 years old with his father, learning to love the sport.
That afternoon, he looked up in the stands to see his father in those same seats. He could see in one special moment where his journey had started, and where it had led. "Some of my teammates wouldn't understand how important of a win that was to me and my family,'' he said.
He was given a one-term scholarship that spring, and had it renewed for good in the summer. Barlow still remembers the sigh of relief he heard from his mother when he called home with the news.
By his junior year, he was a full-time starter who would lead Big East guards in assist-turnover ratio. He was also named the Big East Scholar-Athlete of the Year with his 3.75 grade point average, majoring in finance. Not until this senior season did his career scoring average climb above his career grade point average.
Stevens said he has never been around anyone on either pro or college level who spends more time on the game than Barlow. Holtmann added that "what he brings to the table is an incredibly strong will.'' Also a superior fitness, a good basketball mind, and more natural ability than he's often given credit for.
Barlow has long understood work beyond the norm would always be part of the deal. If it came down to talent against talent in the Big East, he'd be a goner. The payoff is a deeper feeling for the opportunities that recruited scholarship players routinely expect, but he could barely imagine.
"Coming from where I came from has given me more of an appreciation,'' he said. "I'll cherish and pretty much soak in every moment of it.''
Once upon a time … a teenager dreamed of a career that cold logic would have argued against. And now here he is on the final pages.
Barlow is interning right now at Merrill Lynch, studying portfolios, but soon wants to be studying game plans as a coach. Maybe at the college level, but the NBA is growing on him. This, presumably, is where he starts living happily ever after. There is still one item of business, however.  
Those loans from his early days at Butler? He and his parents are still paying them off.
"Nobody's debt free yet,'' said the former unknown walk-on, who on Tuesday night will hear applause granted full-ride All-Americans.•
__________
Lopresti is a lifelong resident of Richmond and a graduate of Ball State University. He was a columnist for USA Today and Gannett newspapers for 31 years; he covered 34 Final Fours, 30 Super Bowls, 32 World Series and 16 Olympics. His column appears weekly. He can be reached at mlopresti@ibj.com.
 
Please enable JavaScript to view this content.