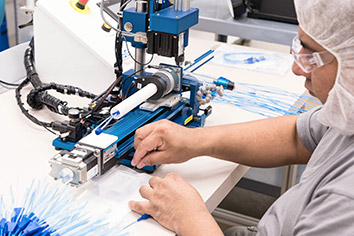 An Indianapolis exporter that stood to take a hit from the strong dollar is faring well, thanks to a strategy honed in two prior cycles when the currency stood tall.
Catheter Research Inc., which develops and manufactures plastic medical products, has kept sales and profit growing at a consistent clip by rewarding international distributors for favoring its products over competitors'.
If distributors sell enough Catheter Research products, they get a price discount, said President Phil Sheingold. The higher volume in turn drives down Catheter Research costs through economies of scale and keeps profit levels about the same.
Catheter Research also banks heavily on a history of giving distributors white glove treatment; distributors usually return the favor, Sheingold said.
Although Sheingold wouldn't divulge figures, he said the strategy has resulted in the company's barely feeling the surging dollar—not that he likes its dominance.
"Hopefully, we don't have to keep using" the volume discount, said Sheingold, who has been with the company since 2013.
Catheter Research's Thomas Medical division exports obstetrics and gynecological devices to 55 countries. The company also runs engineering and development and contract manufacturing divisions.
The strong dollar hasn't been all challenge for Catheter Research. Prices for the plastics used in the products retreated as the price of oil fell; oil is among imports that become cheaper to buy with a stronger dollar, though oil prices are also low due in part to a price war started by Saudi Arabia.•
Please enable JavaScript to view this content.