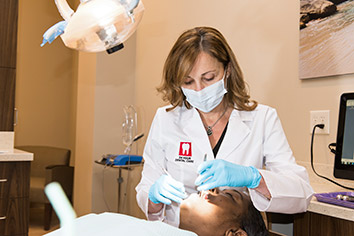 Reclined in a dental chair, Lisa Day was about to have a broken tooth repaired.
Despite suffering from periodontal disease and diabetes, it's her first visit to a dentist in roughly a decade.
"I hate to hear the drill," the 47-year-old Plainfield resident lamented. "It really makes me nervous."
Even so, she's the ideal patient for 24 Hour Dental Care, an upstart downtown dental practice offering just what the name of the business implies—round-the-clock emergency oral care.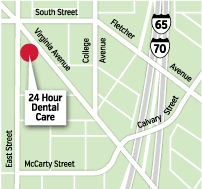 The new concept is so unusual that the Indiana Dental Association doesn't know of a similar operation anywhere in the state. Sure, a dentist may be on call during some nights and weekends. But to have one on site at all times is unheard of, IDA Executive Director Doug Bush said.
"It's the only practice that I'm aware of that keeps those hours," he said. "It's an interesting concept."
The founder of 24 Hour Dental Care is Dr. Shirley Ferreira, a native of Brazil who launched it Dec. 15 from her existing Midwest Oral Health practice on Virginia Avenue in the Villaggio condominium building.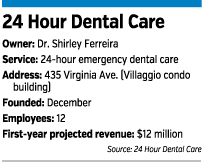 The more traditional Midwest Oral Health operates from 7 a.m. until 2 p.m. weekdays. Separate entrances split it from 24 Hour Dental Care, but the two practices share equipment.
With the tools sitting idle for much of the time emergency care is most needed—after normal business hours—the light bulb went off for the 45-year-old Ferreira.
"We already had everything here," she said, "so why not?"
There's no dental hygienist on staff to give routine teeth cleanings. The range of services instead includes more pressing procedures such as extractions, implants and root canals for those who may not have a dentist or simply are unable to visit one during the day.
So far, 24 Hour Dental has seen 550 patients, more than half visiting in February alone. Three billboards, on the east and south sides, advertise routine extractions for an affordable $77, accompanied by its "always open, always affordable" slogan.
The practice accepts most insurance and extends a discount for those paying cash. For a $20 annual membership, cash-paying patients can receive between 40 percent and 60 percent off most dental services, its website advertises.
Ferreira projects first-year revenue of $2 million.
Marriage brought Ferreira to the United States, where she landed at the Canton, Ohio, office of Indianapolis-based ImmediaDent, an urgent-care dentistry open from 9 a.m. to 9 p.m. seven days a week.
ImmediaDent has 23 locations in Indiana, Ohio and Kentucky and was founded by dentist Dean Stratman. He sold the business in 2007 to local businessman James Ferrell, who also owns Ferrell Gas and Blue Rhino Propane.
Stratman later returned to ImmediaDent as chief dental officer. That's when he met Ferreira, who had divorced. The couple married in 2012.
Stratman now works alongside his wife at 24 Hour Dental. Fellow dentist Tom Ringenberg, a recent arrival from Richmond, Indiana, also has joined the staff and mans the overnight shift. Ferreira since has added a fourth dentist and also is hiring students from the Indiana University School of Dentistry to assist on procedures.
The practice has been so successful that she's already planning a second location, at 81st Street and Shadeland Avenue on the northeast side. If all goes well, other locations, possibly outside the state, could be in the offing.
"We're trying to service everyone, especially in times of a toothache," Stratman said.
Sometimes, a toothache becomes so unbearable that it might need attention no matter the time. Many patients arrive at the clinic after 5 p.m., when they're done working for the day. But surprisingly, it's not uncommon for Ringenberg, a 27-year veteran, to see patients at 3 a.m.
"That's when they just can't take it anymore," he said of the pain they're typically experiencing.
It's not unusual for 24 Hour Dental to get referrals from Eskenazi Hospital and Methodist Hospital for patients seeking help from their emergency departments.
The number of Americans turning to emergency rooms for routine dental care is becoming a huge concern for hospitals, and the problem is growing. The number of ER visits nationwide for dental problems rose 16 percent from 2006 to 2009, according to a 2012 study from the Washington, D.C.-based Pew Research Center.
Many of the visits to 24 Hour Dental simply are prompted by accidents: a child roughhousing with a sibling or an adult who slipped and took a dive on a bowling alley.
"It's very gratifying," said Ringenberg, who sees at least a dozen patients a night. "You never know what's going to come through the door."•
Please enable JavaScript to view this content.