Jerry Rezny doesn't seem all that disruptive. Yet the affable, 61-year-old chef, restaurateur, microbrewer, educator and serial entrepreneur already has played a not-inconsiderable role in disrupting the American beer industry. Now he hopes to help do the same thing with soda pop.

"I decided I wanted to make something better than what the big guys sell," Rezny said.

He wants to do it via his latest venture, Handcrafted Beverages. The small Indianapolis firm, which debuted two years ago, features a deceptively innocent-sounding business model: distribute locally formulated soda syrups to independent eateries.

Rezny
So far, his syrup flavors, which run the gamut from cola to root beer to red cream soda, caramel apple and ginger beer, can be found at around a half-dozen Indy-area dining establishments, including the Broad Ripple Brewpub, Papa Roux and Shoefly Public House.

"My goal is to give the independent restaurateur a higher quality, locally produced alternative to the nationally distributed beverages," Rezny said.

To supply his clientele, he cooks from 100 to 300 gallons of syrup each week in rented space at Indy's Kitchen. To put that weekly output in perspective, a busy shopping mall food court might run through 100 gallons in a week.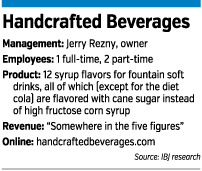 Rezny's relatively shallow supply pool dictates his current business model of catering to independent restaurants.

"We couldn't even possibly supply a big chain," he said. "Independent restaurants are no problem, but to do a huge chain would be beyond us."

Such a small-potatoes operation doesn't sound like much of a threat to Big Soda, an industry with $75 billion in annual sales that's dominated by household names such as the Coca-Cola Co. and PepsiCo. But Rezny has seen giants humbled before, using the same approach he's executing today. He even had a hand in it.

The first industry he helped transform was American beer brewing, which until the 1980s was dominated by a handful of huge corporations. The homogenized products they turned out were profitable but far from distinctive.

"The U.S. was known throughout the world for having lousy beer," Rezny said. "So craft beer started making something better."

Rezny, who has bachelor's degrees from the University of Wisconsin in business management and economics, acquired a lifelong passion for beer after traveling to Germany soon after graduation. Back in the United States, he became a home brewer. Then, in 1987, he opened a brewpub in Kenosha, Wisconsin—the first in the Midwest and the 16th in the entire country.

Those small-scale brewers—of which there are some 2,500 in the United States today—changed the face of the business. By 2013, craft brewers owned 14.3 percent of the nation's beer market, according to the Brewers Association. In an otherwise flat industry, craft breweries rang up an estimated $14.3 billion in retail sales in '13, up from $11.9 billion the year before.

"We can do the same thing with sodas," Rezny said. "Sodas used to be better than they are now."

Sweet opportunity?

The reason, he asserts, is that years ago Big Soda began slipping high fructose corn syrup into its drinks instead of the much more expensive cane sugar. This, in Rezny's opinion, took away some of their products' flavor and made them oddly unsatisfying.

Not surprisingly, his Handcrafted Beverages all use cane sugar, except for his diet cola product, which uses stevia.

The Broad Ripple Brewpub was the first eatery to carry Handcrafted Beverages' entire product line.

"The idea of handcrafted sodas served with our handcrafted ales seemed like a good fit," says general manager Billy Hannan. "We've done very well with them."

The drinks sell for $2 a glass, which is the same price as their previous, big-name suppliers. The Brewpub's top seller is Rezny's cola.

"We keep cans of Coke for people who just can't handle it," Hannan said. "But we sell very few, which to me is a pretty good indication that people like the cola."

It took Rezny about a year of tinkering to perfect his recipes. He's not unfamiliar with the soda industry, since his first job out of college was at a Coca-Cola bottling plant. During his brewpub days, he concocted and sold his own root beer, but couldn't make other sodas because he couldn't obtain the proper ingredients.

"The cola wouldn't taste the same from one batch to the next," Rezny said. "This was before getting supplies on the Internet was a big thing."

So he shelved his soda plans and got on with his life. After two decades in the brewpub business, he sold out in 2006 and became food and beverage director for the Milwaukee location of a small hotel chain.

Shortly thereafter, the company bought an Indianapolis property and asked Rezny to relocate here. Now, he's an adjunct professor at the International Culinary School at the Art Institute of Indianapolis—a part-time gig that gave him time to resurrect his interest in craft sodas.

'Just a blip'

He's not the only person and/or small business focused in this market niche. Outfits with names such as Reed's and Appalachian Brewing Co. (commonly known as ABC) are already there. And Big Soda has definitely noticed.

"Craft is just a blip in the soda business, but it's something we're starting to watch," said John Sicher, editor and publisher of Beverage Digest. "The craft sodas may gain a foothold over the next few years."

Perversely, they might even spell salvation for an industry that's seen a decade-long sales swoon. All the major players have to do is take a page from the Big Beer playbook, where established players regularly snap up trendy microbrews and add them to their portfolios. For instance, the casual beer drinker probably doesn't realize that one of the most popular craft names, Shock Top, was acquired a few years back by the decidedly un-craft Anhauser-Busch InBev.

PepsiCo already has made a move in this same direction, recently unveiling a new product now in limited release called Caleb's Kola. Named after Pepsi founder Caleb Bradham, it's sweetened with cane sugar and sold in old-fashioned glass bottles. In case anyone fails to understand the market niche to which it aspires, each bottle is emblazoned with the words "Honor in Craft."

Some experts, however, wonder if craft sodas can change the game the way craft beers did. The problem is that while beers are all subtly different, sodas work with a far less diverse flavor palette. Put simply, craft sodas may taste different and better, but perhaps not different or better enough to change customer habits.

"In general, I think most consumers believe that Coke, Pepsi and Dr. Pepper are premium enough for them," Sicher said. "But craft has been a big success in the beer business, so we're watching to see if it takes hold in the soda business."

For his part, Rezny is proceeding slowly and carefully. He says Handcrafted Beverages, which posts revenue in the five figures, will grow conservatively. He thinks he'll soon need a dedicated syrup manufacturing facility, which might cost in the $100,000 range to set up. But he has no plans to bottle his wares and sell them retail.

"The problem is that bottling is a whole other business—a very capital-intensive business," he said.

He thinks franchising might be a better long-term model. He likes the idea of distributing his relatively small-scale product to other relatively small-scale operators, who would in turn offer it to independent restaurants in their areas.

"That way, there's a connection with the community, and the money goes back into the community," Rezny said. "It's not some huge chain."

That small scale has helped Rezny keep costs within reason, even though the cane sugar Handcrafted Beverages uses costs about 42 percent more than high fructose corn syrup. Rezny said the company makes up for this relative extravagance by spending exactly zero dollars on things like marketing and market research.

Rezny thinks expansion could go in one of two directions.

"On a small scale, I could be making syrups for 30 restaurants in Indianapolis," he said. "On a grand scale, I could be franchising so that people can have a local product in every large city. The plan isn't etched in stone."•