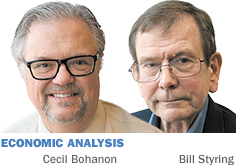 Readers of the Feb. 23 IBJ couldn't miss an advertising wrap proclaiming the virtues of Indiana's common construction wage law. We'd bet that most Hoosiers have never heard of the law and have no clue why such expensive advertising would suddenly appear. What gives?
House Enrolled Act 1019, a bill to repeal the wage, is what gives. Few Statehouse junkies thought it would be an issue this time around. But the bill has passed the House and stands a chance of becoming law.
Those who benefit from the wage are in panic mode. It's not hard to understand why. It governs the price paid for labor on state and local government construction projects, and has the effect of requiring the union scale on many projects. This usually results in higher labor costs and, ultimately, higher taxes we have to pay.
Here's how it works: Every project has to have a five-member common construction wage committee. The group sets the wage scale for different types of labor to be used in the construction. Bidders are required to pay what the committee dictates.
In practice, in counties where union influence is strong (Lake and Marion, for example), the committee usually adopts the scale the AFL-CIO submits. In counties where union influence is less (Hamilton), the committee often adopts a nonunion scale.
Most economists would ask why we are in the business of deciding the "correct" wage prices. Most would advocate for writing project specifications and quality standards into the contract and letting bidders have at it with whatever wages they and their employees find mutually satisfactory.
The answer is obvious. If any contractor, including nonunion, is required to pay higher union wages, nonunion bidders can't deploy their most potent weapon (lower labor costs). Taxpayers wind up paying more than they have to for the capital project.
Since many taxpayers are less well off than relatively well-paid union members, proponents of "fairness" should be outraged. Unions counter with the claim that union labor is better trained and more efficient.
A little reflection exposes that argument. If union labor is really more efficient, then union contractors will have lower total labor costs, their bid will be lower, and they'll win the contract.
The common construction wage is a tool to transfer wealth from taxpayers to union members. No wonder unions are upset at the prospect of losing such a sweet deal.•
__________
Bohanon is a professor of economics at Ball State University. Styring is an economist and independent researcher. Both also blog at INforefront.com. Send comments to ibjedit@ibj.com.
Please enable JavaScript to view this content.