Plans for a blighted intersection just north of East 16th Street could add to the revitalization of an area that's already seeing an increase in development.
Four vacant structures on each corner of East 17th and Bellefontaine streets, including three commercial buildings, all are in poor condition. But that could soon change if two local developers are granted zoning variances from the city.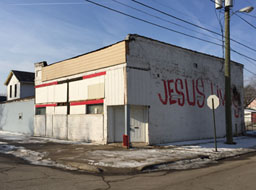 Idreno Development will move its offices to 1660 Bellefontaine St., one of three buildings in the blighted area slated for rehab.  (IBJ Photo/Scott Olson)
Reveal Properties LLC and Indreno Development Group LLC have teamed to buy the buildings in hopes of adding a mix of office, retail and residential space just two blocks west of the Monon Trail.
The developers already are familiar with one another. Reveal Properties owns the building at 1030 Central Ave. that is home to Indreno's office. Indreno, which renovates historic downtown homes, will move to the building it bought at 1660 Bellefontaine St.
Reveal Properties bought the building directly to the north, at 1702 Bellefontaine St., and the small pagoda-style structure across the street to the east, at 902 E. 17th St.
The renovation of the three buildings and a handful of homes that Indreno plans to fix up will cost a total of about $1.5 million, Indreno co-owner David Chavarria said.
"We wanted to build in an area that's a little depressed," he said. "We've been looking for a while."
Much of the Kennedy-King neighborhood, which runs from Central Avenue east to the Monon and from 16th Street north to 22nd Street, is in serious need of revitalization. Efforts by the King Park Development Corp., coupled with ongoing development along 16th Street, could give the area a lift.
"The neighborhood is certainly a transitional area," said Steven Meyer, executive director of the King Park Development Corp. "But it's very close to the Old Northside and Herron-Morton [Place], so it's in the area that connects those thriving residential neighborhoods to the Monon Trail."
Indreno will take about 2,000 square feet of the 4,400 square feet available in the building it bought. That leaves 1,600 square feet for a retail tenant and about 800 square feet for a studio apartment.
The building was constructed in the mid-20th century and most recently housed a church, evidenced by the large "Jesus Lives" message scrawled on the structure's north exterior wall.
The building to the north that Reveal Properties bought is separated into two spaces and measures 2,750 square feet—or 3,600 square feet if the developer adds a second floor to the northern part of the building.
Reveal tore out the existing second story because it was dilapidated, and it has replaced the roof and gutted the interior to expose the brick walls.
That structure is at least 100 years old and once housed a neighborhood grocery. It last served as apartments, said Kara Heiser, who operates Reveal Properties with her brother, Jason Comer.
Reveal is seeking a variance for office or restaurant uses in the two spaces. A city zoning board is set to consider variance requests for both buildings Tuesday afternoon.
The pagoda to the east of Reveal's building ultimately might attract some sort of seasonal, summer tenant, Heiser said.
"It's a small building, but it's a really neat structure," she said. "It has a ton of character."
What the two developers are planning at the intersection is just a small sample of activity in the area.
On East 16th Street just to the south, Lincoln, Nebraska-based real estate firm U.S. Property Management is preparing to invest up to $8 million to convert an old, vacant building into a mix of apartments and retail uses.
The company owns the nearly century-old building at the southeast corner of East 16th and Bellefontaine streets that housed the Omar Baking Co. from 1927 to 1966. It has received approval to rezone the 1.7-acre property and envisions 49 apartments and commercial space in the three-story structure.
A few blocks to the east, Noblesville-based Slane Capital is developing another century-old vacant building for Better Retail, which plans to move its headquarters from Hamilton County while converting the vacant structure into a hub for food-and-beverage startups.
Work on the three-story, 30,000-square-foot building and a smaller accompanying structure is expected to start soon.  
And the Tinker Street restaurant opened in January at 402 E. 16th St. The eatery is a chef-driven and plant-based concept launched by trailblazing restaurateur Peter George and business partner Thomas Main.  
Please enable JavaScript to view this content.