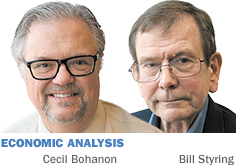 One of the best attributes of the free-market economy is entrepreneurs and investors gaining from taking risk. This alignment of responsibility and freedom brings out the best in us.
Of course, if the entrepreneur cannot convince investors to participate, he can convince government to coerce the public to participate. This comes into play with the machinations of Indy Eleven, the professional soccer team that calls Indianapolis home. On its website, President and General Manager Peter Wilt says a multipurpose soccer stadium makes great financial sense and goes so far as to say, "If you don't go—you won't pay."
This is wonderful: a self-sustaining sports venture requiring no public subsidy. Send us a prospectus.
So explain again why the Legislature must pass a law to make this happen?
There are both ethical and practical problems with the Eleven's request.
What criteria is the public official supposed to use when she is forcing taxpayers to support a private venture? The government's ability to support private enterprise is limited.
Are only ventures that are "big enough" worthy of support? Who decides what is big enough? Is government really competent in picking winners among all the petitions that come its way? If only certain ventures are to be supported, isn't this license for crony capitalism?
Wilt's claim reminds us of a teenager who tells Mom and Dad, "I'm shocked you think I'm asking you to make payments for a sporty new Audi—I just want you to co-sign the loan." Like the soccer promoter's claim, this is not exactly a lie—but it obscures the full truth. And like any reasonable parent, we hope the Legislature will have the wisdom to turn down the request.
Don't get us wrong. We enjoy a good soccer game. We also suspect we'd enjoy a good bout by the unsubsidized Naptown Roller Girls.
But wait. Isn't it sexist to favor male soccer?
Subsidizing one group's leisure preferences at the expense of the general public is just plain wrong. Every argument Indy Eleven makes for public support for sports can be made for any sport: amateur or professional.
To support one and not another is a violation of fair play.•
__________
Bohanon is a professor of economics at Ball State University. Styring is an economist and independent researcher. Both also blog at INforefront.com. Send comments to ibjedit@ibj.com.
Please enable JavaScript to view this content.