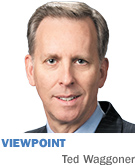 Recent news of Hoosier attorneys donating $100,000 to the victims of disgraced Indiana lawyer Bill Conour prompts several thoughts about bad lawyers and the consequences for those victims.
• What prompts a highly regarded lawyer to commit such a blatant act of theft? Conour is an admitted anomaly, in that few lawyers so prominent fall so far.
Most of the handful of lawyers who steal each year are struggling, many suffering from untreated mental or emotional problems. But, it is naive to think troubles do not affect prominent, or "good," lawyers.
The Icarus Effect has been known to catch prominent lawyers as well as business leaders, engineers, doctors, clergy and politicians. Icarus, as you recall, flew too close to the sun, melting the wax holding his wings, and fell to earth.
Prominent people who fly high are also susceptible to "getting too close to the sun," at least in their heads, and committing acts of self-destruction.
Accountability is a tough thing to achieve when there are so few peers at those heights and too few colleagues willing or able to hold a prominent person accountable.
• Who stands up to help victims of crimes like this? The only lawyer who stole from the victims in this case was Bill Conour. He stole $6.7 million, according to federal Judge Richard Young, who sentenced him in October 2013.
As reported in the March 9 IBJ, the Indiana State Bar Association through its Client's Financial Assistance Fund donated $100,000 for the victims who filed claims.
There is no duty or obligation for lawyers to help victims of the five or six bad lawyers for whom claims are received each year. Nor is there obligation to fund the financial losses (about $90,000 each year over the previous three years), but ISBA members do so through a portion of their annual dues.
Paradoxically, those bad lawyers are seldom members of the association, as they are not the kind of professional who would join the network of lawyers who share the goals to improve their profession.
Like every profession, there are bad apples, but ISBA is the only professional group I am aware of that helps victims of bad licensees.
• What took so long to catch Conour?
With the first reports made to the FBI in 2011, to the criminal charges being filed in April 2013 and his resignation from the bar a month later, many of his victims would not have been harmed had the early reports of problems led to criminal charges.
His former partners, local and federal law enforcement, and prosecutors have yet to provide an adequate explanation for why more than a decade passed between the first questions being raised and his indictment.
Michael Witte, executive director of the Indiana Supreme Court Disciplinary Commission, explained to the Indiana Lawyer in October 2013 that confidentiality rules "sometimes hamstring us from being able to use outside resources and exchange information. I can't just pick up the phone and call the FBI and say, 'We've got a case against a lawyer.'"
Witte also cited a limited staff of just one full-time investigator and 12 staff attorneys.
We still wait for explanations from others, as well.
It was surely hard to believe that someone as prominent as Conour was so corrupt, but unfortunately for his victims, the public and the bar association fund, he was.•
__________
Waggoner, a Rochester attorney, has represented lawyers in disciplinary matters. Send comments on this column to [email protected].
 
Please enable JavaScript to view this content.