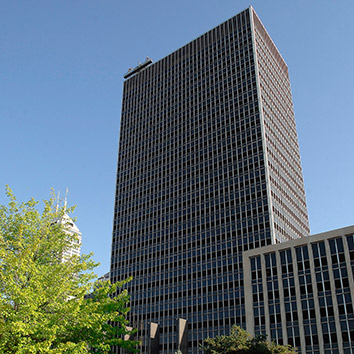 Indianapolis City-County Council President Maggie Lewis received more than $10,000 from her campaign over the past three years as reimbursement for various expenses.
The nature of those expenses is for the most part a mystery. Her campaign reported almost all of the payments with no other description of purpose than a one-letter code, "O" for operations, as required by law.
It's common for candidates to be reimbursed by their campaigns, and it's not illegal to provide so little detail. Nevertheless, one of Lewis' political foes thinks the public has a right to know more about the Democratic council leader's spending.

Lewis
"In 2013, there were 13 checks made out to Maggie Lewis, and nine of them were in exact round numbers," said Louis Mahern, a former Democratic state senator and the father of Lewis' rival, former councilor Brian Mahern. "That sure as hell doesn't sound like reimbursement for expenses to me."
Lewis and her campaign treasurer, Peter Okeafor, said they have receipts, and they would file revised reports, if necessary.
It's unlikely the Marion County Election Board will require Lewis to revise her campaign finance reports. Mahern hasn't filed a complaint, which would prompt the board to at least review the reports.
Andy Mallon, a lawyer for the election board, said that if a complaint were filed and no deficiency or violation found, the board could give the candidate an opportunity to provide more information.
Regardless, Mallon said Lewis' reports appear to follow state law. The law requires candidate campaigns to list a purpose for each expense, but that may be limited to a few broad categories, which include advertising and operations.
While the law doesn't require details, the form for reporting expenditures instructs candidates to "be specific."
"The Indiana Election Commission drafted the form to avoid questions like this," Mallon said.
No re-election opponent
Named council president after the 2011 municipal election, Lewis said she sought advice on avoiding campaign-finance impropriety. No one who's ever reviewed her reports raised a question, she said.
"Here's the thing. I have absolutely nothing to hide," Lewis said.
Lewis' full-time job is executive director of Dove Recovery House, a halfway house for women dealing with addiction. She came onto the council in 2008 after a special election and was elected to her first full term in 2011.
Lewis appears poised for a third term. She won't face a primary opponent, and so far, no Republican challenger has come forward in her northwest-side district.
Mahern said he's calling out Lewis as he would any other elected official, not because of bad blood. (The Lewis-Mahern rivalry came to a head in August 2013 when Brian Mahern joined Republicans on the council in trying to oust Lewis from the president's post.)
"It's not like Maggie Lewis is the first person I've picked on," Louis Mahern said.
Lewis said most of her expenses benefit council Democrats. If they want to sponsor a table at an event, her campaign picks up the tab because she's one of a few who raise significant sums, she said.
Supporters flooded Lewis' coffers with cash after she was named council president in 2012. She raised $46,747 that year and spent $16,191.
At regular intervals, she received payments that were listed as "payment of debt"—though the campaign listed no debt on its books. Okeafor said payments to Lewis have always been reimbursement for expenses, regardless of how they were listed on the report. In 2012, they totaled $3,009.
Early in 2013, Lewis was reimbursed $3,200, split over three payments in January and February, for travel.
Lewis said she went to Washington, D.C., at the invitation of "folks that wanted to help me with my campaign."
Always campaigning
Although 2013 wasn't a municipal election year, Lewis said via email, "I was trained that you are always in campaign mode. Regardless of your name appearing on the ballot. Never stop campaigning/networking."
The campaign paid Lewis a total of $5,906 in 2013. She received $1,682 in 2014, the most recent year reported.
While she has continued to raise five-figure sums since 2012, Lewis spent more than she brought in the past two years and ended 2014 with $10,701 on hand.
Candidates vary in the level of detail they offer about reimbersements. Republican Janice McHenry's campaign reported repaying loans from her husband for Web services and Internet service and went so far as to break down the monthly charges.
McHenry's campaign also reported repaying a loan to her: $106.37 for water, candy bags and office supplies.
Minority Leader Michael McQuillen's campaign reimbursed him $2,693.27 last year, all for fundraising expenses.
McQuillen, who raised $45,150 last year, said he usually runs the errands to buy food and supplies before his events.•
Please enable JavaScript to view this content.