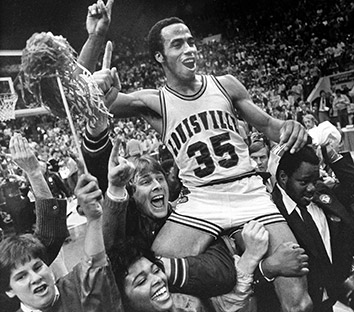 It's not just that Indianapolis has hosted more Final Fours than you can shake a pompom at. It's been all the glittering names and their grand moments. More than once, Indy has hit the jackpot, and can only hope to do so again in three weeks.
(P.S. This might or might not include Kentucky's capping a historic perfect season, depending upon your tolerance level for Big Blue.)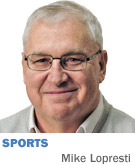 This is where Mike Krzyzewski won his first and fourth championships, and Lute Olson his only title. This is where Rick Pitino coached his last game for Kentucky, and Dean Smith coached the last game of his life. Larry Brown and Roy Williams made their first Final Four appearances here, Jerry Tarkanian his last one.
Butler's great ride, George Mason's Cinderella story, Duke's famous upset of UNLV, the last Final Four trips by Purdue and Iowa—all here.
"Without question, that does help build the mystique of this place," said Dan Gavitt, the NCAA vice president in charge of the tournament. "One of the things that is so special about the Final Four is the memories."
So here they are. Six voices from six Final Fours, and their recollections of Indianapolis.
1980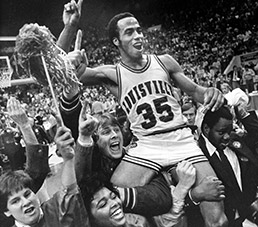 University of Louisville's Darrell Griffith celebrated victory in Market Square Arena. (AP Photo)
The first Indy Final Four was squeezed into Market Square Arena, capacity of under 17,000. … The quartet of Louisville, UCLA, Purdue and Iowa had 29 defeats among them, and it would be the last Final Four without a No. 1 seed for 26 years. … Denny Crum was so angry at his Louisville players at halftime of the championship game, trailing UCLA 28-26, he told them they were choking, then apologized in the huddle before the second half began. … The Cardinals went on to win 59-54 with 23 points from Darrell Griffith, the leader of the Doctors of Dunk. … Purdue, which had lost to Larry Brown's UCLA 67-62 in the semifinals, rolled over Iowa 75-58 in the now-defunct third place game….The legendary story of the weekend was Louisville's Wiley Brown leaving his artificial thumb at the breakfast table the morning of the championship game, and someone having to retrieve it out of a hotel dumpster. Brown had eight points and seven rebounds that night.
Denny Crum: "At the time, it was a great basketball venue, right in the heart of basketball country. The only complaints I heard was that the hallways were too narrow. We were fortunate to come out on top, but when you win one of these things, there's no easy way to do it.
"I think Indianapolis is about as good as it gets for the Final Four. That weekend, you don't forget. They're memories in your life you think about a lot."
1991
The Hoosier Dome and a revived downtown made Indianapolis a Final Four hot spot. … Duke and Mike Krzyzewski beat Kansas and Roy Williams 72-65 in the title game, but that was merely an epilogue to Duke's stunning 79-77 semifinal upset of 34-0 UNLV, one year after the Blue Devils had lost to the Rebels by 30 points in the championship game. … Christian Laettner's free throws with 12.7 seconds left decided a classic that had 25 lead changes and 17 ties. … Williams beat his old mentor Dean Smith and North Carolina 79-73 in the other semifinal, which included Smith's being ejected with his second technical foul in the final minute.
Duke guard Bobby Hurley, who had many of his team's 23 turnovers against UNLV in 1990: "In the back of my mind, I hoped that we would play [UNLV] again. I don't remember being as prepared and as angry and as ready to play a game as I was for that game. It took me weeks to get over that—feeling sorry for myself, feeling humiliated and that I had let a lot of people down.
"I remember how the building was phenomenal that night, because the fans were seeing something they didn't expect to see happening in front of them. And I remember how the crowd shifted in that game when they started to sense we could pull off the upset."
1997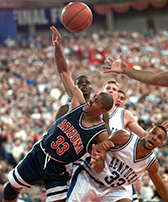 No. 4 Arizona beat No. 1 Kentucky in overtime at the RCA Dome. (AP Photo)
Kentucky's bid for a repeat championship was derailed in the title game by Arizona, 84-79 in overtime. … Miles Simon's 30 points for Arizona are the most for a player in the championship game in the past 19 years. … Arizona outscored Rick Pitino's last Kentucky team 34-9 from the free-throw line. … Arizona beat North Carolina 66-58 in a semifinal, which turned out to be Dean Smith's final game. … Kentucky topped Minnesota 78-69 in the other semifinal. … Arizona remains the last champion from the western two time zones, and the only No. 4 seed to ever win the title. … The Wildcats beat three No. 1 seeds on their championship road: Kansas, North Carolina and Kentucky— the three winningest programs in the sport.
Simon: "I remember we stayed right downtown close to the RCA Dome, and we—myself and Mike Bibby and a couple of other teammates—walked over to the mall without anybody noticing us. We ate in the food court and went to the Fan Fest. All theregular stuff.
"It's just great to look back and know that, in the biggest moment of my basketball career, I was able to step up to the plate and have a huge game on such a big stage. Most important to me was helping Lute Olson and Arizona get a title. After we won, myself and a bunch of teammates went to the Steak n Shake downtown. We walked in there and it was packed at 2 or 3 in the morning, and the fans started chanting, 'MVP! MVP!' I thought that was pretty cool."
2000
Michigan State beat Florida 89-76 to give Tom Izzo his championship. … The Spartans were led by the Flintstones: three starters (including Final Four MVP Mateen Cleaves) who all came from Flint. … Florida beat North Carolina 71-59 in one semifinal while Michigan State got past Wisconsin 53-41 in an ugly game where neither team shot 35 percent.
Izzo: "Magic Johnson made the statement to the players, 'You'll never appreciate this now… but 10 years from now, you'll realize how much of an accomplishment this is.' I can see where he was so right. I always use Gene Keady as an example, because he was one of the best coaches I ever went against. You realize how many people don't even get there. "I'm an Indy nut. The greatest thing you can do is be in the Final Four if you're a basketball guy, and Indy is one of the few places where you can enjoy it. It's my favorite Final Four city. It's just conducive for accommodating what you think happens at a Final Four: people walking down the streets from all four schools.There's nothing like that."
2006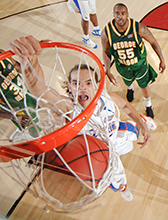 Florida routed Cinderella team George Mason in the semifinal on its way to the championship. (AP Photo)
Florida pounded UCLA 73-57 in the championship with 16 points, nine rebounds and six blocked shots by Joakim Noah … but all the buzz was on—George Mason as one of the unlikeliest Cinderella stories ever to show up in the Final Four. … Florida outscored the Patriots by 30 points from the line in their 73-58 game. … UCLA beat LSU 59-45 in the other semifinal.
Jim Larranaga, now Miami coach: "When we got to Indianapolis, one of the administrators said the George Mason T-shirts and hats were already sold out, and the fans were buying them by 800 percent more than the other schools. You have to believe you can get there, and our guys did. And I think that allows coaches to convince their teams that, 'Hey, look what George Mason did; we're capable of doing that.' Indianapolis is special and it always will be for me. I'd like to get back there this year, by the way."
2010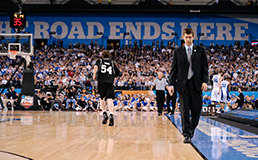 Gordon Hayward's almost Hollywood ending ended Butler's storybook season under Coach Brad Stevens. (AP Photo)
It was so perfect. Butler playing in the first Final Four in Lucas Oil Stadium, six miles from campus, coached by an Indiana kid named Brad Stevens. …The Bulldogs edged Michigan State 52-50 in the semifinal, while Duke rolled past West Virginia 78-57. … Some of the Butler players went to class the Monday of the national championship game. … It ended in a 61-59 classic, giving Mike Krzyzewski his fourth championship. Had only Gordon Hayward's last-second midcourt shot gone in instead of bouncing away, it would have been an upset for the ages.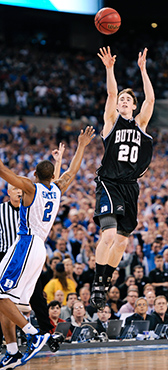 (AP Photo)
Brad Stevens: "It was indescribable.The whole week, other than the preparations for the games and the practices, is really a blur. I was trying to avoid being in the office at all costs because campus was buzzing, so I did a lot of work from home.
"It was weird afterward, because of the hoopla surrounding us and being at home and the fact nobody thought we'd be there, we were kind of treated like winners, anyway. All of our lives changed because of that weekend.
"I watched the championship game again at 4 in the morning at home because I couldn't sleep. I turned it off at the end. I've seen [Hayward's shot] basically every March on commercials, so yeah, I've been able to watch it. I talked to Gordon recently about that game again for a minute.We look at the whole experience as a great memory, a great opportunity to compete together. We don't look at it as, the ball didn't go in."•
Please enable JavaScript to view this content.