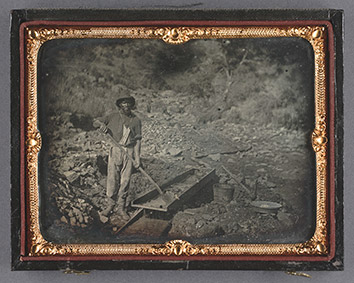 There are no "Cash for Gold" placard-wearers in the "Gold! Riches and Ruin" exhibition, running through Aug. 9 at the Eiteljorg Museum of American Indians and Western Art. But a clear message is nonetheless delivered.
That message: The search for glittery rewards leads, for many, to misery.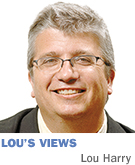 Consider that the exhibition begins and ends with stories of shipwrecks. The first focuses on the S.S. Central America, a steamer lost at sea in an 1857 hurricane along with its cargo of 30,000 pounds of gold. The latter, the S.S. Islander, hit an iceberg off Juneau, Alaska, taking $6 million in gold with it. Between the two, nearly 600 lives were lost with the treasures.
Gold from both ships has been recovered—with pieces from the Islander displayed publicly for the first time in the Eiteljorg's smartly curated show.Seeing the recovered gold bars, gold dust and jewelry evokes the journey each item has taken. And the gold in quartz and other natural states is equally, if not even more, mesmerizing. One can imagine an effective wow-look-at-that exhibition built from such prizes. But such an exhibition wouldn't be nearly as interesting as this.
Here, gold is put in context. Large-scale black-and-white period photos remind us of the size and scale—and the seat-of-the-pants-ness—of much of the gold mining business. We see towns—and lives—that rose and fell thanks to the building up and shattering of dreams.
"Gold" displays the essential and expected artifacts of the miner's life—pans, scales, et al.—but it's at its most interesting when showcasing the items acquired to deal with the troublesome side effects of the gold rush. Among them: weapons, gambling games (Faro, anyone?), a surgical amputation kit, a counterfeit-detection device, and an opium pipe. You don't have to be Jack London to piece those together into a grim narrative.
There's even a Wells Fargo Stage and Train Robber Mug Book, opened to the page highlighting Charles Earl Bowles, aka Black Bart (who, in a real-life variant on Batman's The Riddler, liked to leave notes behind at the scene of his crimes).
Broad in scope, the exhibition makes clear that it wasn't just white American Easterners heading West to find their fortune, noting there were gold-diggers from China, Australia, Europe and the Hawaiian Islands. "Gold!" even reaches back to the 18th century with a Spanish colonial helmet and breastplate to represent Francisco Vazquez de Coronado's search for Cibola.
There's humor to be found, too, in what could pass for an early Yelp review of a California hotel. "… there is a really excellent bowling alley attached to it, and the barroom has a floor upon which miners can dance, and, above all, a cook who can play the violin" reads a letter from transplanted New Englander Louise Clappe.
Even the best treasures have flaws, and there are small ones here. It's not clear why the movie "City Slickers II" is recognized in the exhibit but not Charlie Chaplin's "The Gold Rush." And some of the large-scale photos, such as Frank LaRoche's "Ascending Chilkoot Stairway," could use more explanation.
But in its own melancholy way, "Gold!" is an exhibition that shines.•
__________
This column appears weekly. Send information on upcoming arts and entertainment events to lharry@ibj.com.
Please enable JavaScript to view this content.