Laws will not eliminate prejudice from the hearts of human beings. That is no reason to allow prejudice to continue to be enshrined in our laws.
—Shirley Chisholm
Many years ago, it was rumored that membership in Woodstock Club was controlled by a secret committee whose goal was to grant admission only to "our people." Very few people knew who served on the committee, giving its members cover to routinely reject applications based on the desire to perpetuate the purity of color and religion of the exclusive club. Bigotry flourishes under the mask of obscurity.
Comes now the Religious Freedom Restoration Act, which ostensibly protects religious liberty but instead promotes discrimination by allowing businesses to refuse service to law-abiding citizens on the basis of sincerely held religious beliefs.
An example often cited is that of the baker who believes that Jesus would not wish him to cater a same-sex wedding. The same gang that fought hard and lost in the last Legislature to deny gay marriage now has a new mantra: "OK, marry if you will, but no cake." This law is no cream puff. It could unleash the serpent of discrimination against all who dare tread on the dogma of the religious right. Hate has no boundaries.
The bill passed the Indiana Senate and is being considered in the House. Like the secret membership committee that existed at Woodstock, if this discrimination is legalized it would allow intolerant behavior to be practiced in relative obscurity. That is offensive and scary.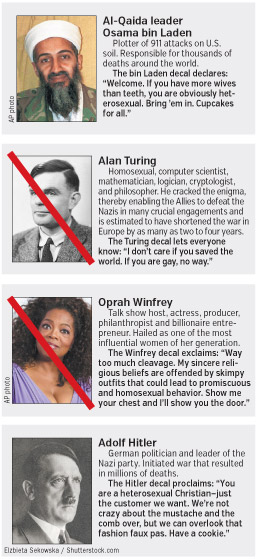 So, let me offer an amendment to the bill—the "Decals Reveal I'm Prejudiced" amendment, or DRIP: In the event your sincerely held religious beliefs compel you to exclude certain patrons, you are required to place a decal in your bakery window informing those customers to whom you will refuse service. (The decals are shown at the right.)
I do not understand why our Legislature continues to propose laws that treat people differently because of sexual orientation. Just like the rest of us, homosexuals have ambitions, talents, skills, goals and ideals. Just like the rest of us, they are human beings who love our country and wish to be full citizens of this state. If our legislators will not allow Indiana to cast aside the tired rhetoric of a bygone era and respect and support all Hoosiers regardless of sexual persuasion, then at least let's shine a strong light upon all those desirous of practicing discrimination. Let that light shine throughout our great state of Indiana.•
__________
Maurer is a shareholder in IBJ Corp., which owns Indianapolis Business Journal. His column appears every other week. To comment on this column, send e-mail to mmaurer@ibj.com.
 
Please enable JavaScript to view this content.