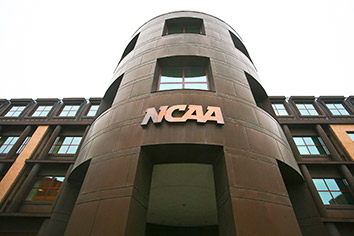 Professional sports and higher education are a losing combination for American college students and fans.
That was the National Collegiate Athletic Association's game-day argument as it seeks to reverse a judge's ruling that the organization behind March Madness and January bowl games is running a multibillion-dollar cartel that cheats athletes.
NCAA member schools would be required to share their $3.5 billion annual licensing revenue, mainly from television broadcasts and ticket sales, with football and basketball players at an estimated cost of $30,000 per athlete over four years. The players will lose part of the academic experience and fans will be deprived of an alternative to professional sports, contends the NCAA, which gets the majority of its almost $1 billion in revenue from licensing.
The Indianapolis-based NCAA presented its case to the U.S. Court of Appeals in San Francisco on Tuesday, hours before the opening of the Division I men's basketball tournament. The association has already granted the biggest athletic programs partial autonomy, allowing conferences to offer athletes benefits including money beyond what current scholarships allow or increased medical coverage.
"The rules say athletes cannot be paid and we define what constitutes pay," Seth Waxman, the former U.S. Solicitor General who is representing the NCAA, argued to a three-judge panel.
The judges didn't signal a consensus during the hourlong hearing and didn't indicate when they will rule.
Antitrust decision
The players won the antitrust decision against the NCAA in a lawsuit brought by former University of California at Los Angeles basketball player Ed O'Bannon, who was named most outstanding player of the 1995 Final Four and is featured in DVDs about UCLA games offered for sale by the NCAA. He sued in 2009 on behalf of a nationwide group of active and former players seeking to negotiate licensing deals for use of their images.
"The no-compensation rule is anticompetitive, not pro-competitive," the athletes' lawyers said in a court filing. Last year's court victory will give athletes, especially those injured in college and others who may never get a chance to play professionally, a shot at some of the billions they generate for their schools, they argue.
Marc Edelman, a sports law and antitrust professor at Baruch College, City University of New York, said the NCAA is the underdog in the appeal.
"Strictly as a matter of law, the NCAA has a very uphill battle," he said.
15-day trial
U.S. District Judge Claudia Wilken, following a 15-day trial in Oakland, California, last August struck down the NCAA's claims that its restrictions on pay for athletes preserved competitive balance and amateurism in college sports. Wilken stopped short of completely opening the market, saying the NCAA could limit payments to football and men's basketball players as long as the cap was above $5,000 a year.
The NCAA contends Wilken was out of bounds in applying antitrust law to its regulatory turf, saying her "judicial micromanagement" amounted to an end-run around a 1984 U.S. Supreme Court ruling that it argues granted an antitrust exemption for amateur athletics.
Wilken's analysis "would blur the line between amateur college sports and their professional counterparts and thereby deprive athletes of a genuine choice between the two endeavors," NCAA lawyers said in a court filing. If students are paid, "they might be less likely to take full advantage of their scholastic obligations and opportunities."
The NCAA cites the U.S. Supreme Court decision to bolster its position that its rules that preserve amateurism are valid. In that case, two universities challenged the NCAA's limit on how many football games they could license for telecast.
Supreme Court
Lawyers for O'Bannon and the athletes counter that the NCAA is misreading the Supreme Court's decision, which also found the association was violating antitrust laws, and argues that last year's trial offered Wilken ample evidence to conclude the 1984 case didn't apply to the one before her.
The NCAA's reliance on that ruling in the O'Bannon lawsuit is "misguided," said Michael Lehmann, a lawyer for the athletes, said.
In support of the NCAA's appeal, a group of four economics and antitrust professors at U.S. universities argue Wilken went too far in her ruling, saying "federal antitrust cases are poor vehicles to create new property rights."
"No sound economic basis exists for a district court creating a property right in a student-athlete's name, image or likeness in these live team sports telecasts or game re- broadcasts, when no such right has been recognized before," they said in a court filing.
Unauthorized use
A key dispute in the appeal is whether O'Bannon had grounds under antitrust law to claim an injury for the unauthorized use of his name, image and likeness, known as NIL.
The NCAA contends there was no injury because there is no publicity right under the law to live-game broadcasts, video games and archival footage of games. It also claims that its rules barring payment for use of a student athlete's image don't regulate commercial activity and therefore aren't covered by the Sherman Antitrust Act.
"There is no such thing as NIL rights," Waxman, the NCAA attorney, said at Tuesday's hearing.
U.S. Circuit Judge Jay Bybee challenged Waxman on that.
"NIL rights are referred to in contracts," Bybee said. "That doesn't mean that they have no value. It means the value may not be established yet. And the fact people are contracting about it suggests they have value."
Publicity rights
U.S. Circuit Judge Sidney Thomas questioned lawyers on both sides about how to account for the athletes' publicity rights.
In written arguments, O'Bannon's lawyers pointed out that the NCAA's new chief regulatory officer, Oliver Luck, has been outspoken about the need for scholarships to match the cost of attendance and his belief that athletes should be compensated for the use of their images. Luck, who started in January, is a former athletic director at West Virginia University, a former National Football League executive and father of Indianapolis Colts quarterback Andrew Luck, a Stanford University alumnus.
The third judge on Tuesday's panel, Gordon Quist, asked whether Wilken's ruling, by creating a paid economy for athletes still in school, has touched off "a race to the bottom."
"Who is to say if $5,000 or $10,000 is put in trust, who's to say it stops there?" he said. "The NCAA makes the argument it's not a federal judge's job to run the NCAA. Where are you going to stop? High school?"
The panel that heard Tuesday's arguments is the same one that in 2013 rejected a bid by video-game maker Electronic Arts Inc. to block lawsuits over its use of college athletes' likenesses without their approval or compensation.
Free speech
Electronic Arts argued the U.S. Constitution's free speech guarantee means it didn't need permission to use images of former NCAA players if its games had enough other creative elements to make them more than merely celebrity depictions.
In a 2-1 win for the former Arizona State University quarterback who brought the lawsuit, the appeals court concluded there was no such transformation in the company's "NCAA Football" game. Electronic Arts and the NCAA later settled that case for a total of $60 million and EA canceled the game.
If Wilken's decision is left intact by the appeals court in the O'Bannon case, the effect may be "a lot less than people think," Edelman said.
While her decision bars the NCAA and schools from getting together to pass a no-pay rule, "nothing prevents member conferences from doing what the NCAA did," he said.
Highly competitive conferences may choose to allow some form of pay for publicity rights, he said. Others, like the Ivy League, may continue to prohibit player compensation beyond scholarships.
Please enable JavaScript to view this content.