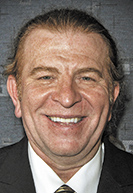 An Indianapolis not-for-profit that helps formerly incarcerated people reenter the workforce has broken ground on its $13 million near-east side headquarters. RecycleForce says the 102,500-square-foot facility will allow it to recycle 12 million pounds of electronic waste and employ 600 people annually, doubling its capacity.
"We're recycling stuff, and recycling lives," said RecycleForce President Gregg Keesling on Wednesday at the groundbreaking ceremony.
The green and gray facility, at the site of a former RCA manufacturing plant in the Rivoli Park neighborhood, is set to open fall next year, according to RecycleForce.
"It all begins with the goal of  jobs for residents, and jobs with low thresholds to entry, and jobs that pay living wages—and employers that want to be part of the community," said City-County Councilor Jason Larrison, whose district includes Sherman Park.
RecycleForce offers transitional, six-month jobs to ex-offenders, along with job-skills training, peer mentorship, counseling, financial literacy help and other wrap-around support services. The hope is that participants can leverage their experience into a full-time job after leaving the program.
"It's about economic development and it's about believing in these people, in these [uniform] shirts," Keesling said. "They've made a mistake, right? But you're not to hold that mistake against them for the whole of their lives."
The project was partially financed with a loan from IFF and Partners for the Common Good, according to RecycleForce.
Indianapolis also donated land for the facility and awarded $13 million in New Markets Tax Credit funding, meant to incentivize private investment in low-income communities. The Hogsett administration says it's given out more than $110 million through the federal program, including for Wheeler Mission's Center for Women and Children and the Madam Walker Legacy Center.
RecycleForce's new facility will be on 7.5 acres of the 50-acre Sherman Park site, which once was home to an RCA manufacturing plant. The plant closed in 1995 and was demolished in 2017, including the former television factory out of which RecycleForce once operated.
The organization moved to its current headquarters at 1255 Roosevelt Ave. during a protracted legal fight with its former landlord at the Circle City Industrial Complex on Brookside Avenue.
Please enable JavaScript to view this content.