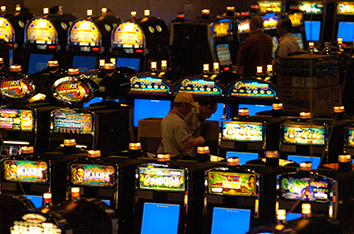 A bill meant to bolster the casino gambling industry cleared a key hurdle Wednesday when it passed a Senate committee that last year refused to vote on similar legislation.
House Bill 1540 now heads to another Senate committee that will consider its impact on the state budget. But even if it ultimately passes the General Assembly, the legislation may not become law.
That's because Gov. Mike Pence has declined to say publicly whether he considers the legislation an expansion of gambling, something he opposes.
The bill, authored by Rep. Tom Dermody, R-LaPorte, allows riverboat casinos to build on their existing land footprints, creates a tax credit for existing casinos to build hotels and other accommodations on their properties, and gives racinos the ability to convert half of their electronic table game machines to live dealing stations.
"This bill is too important to all our communities and for the industry across the state," Dermody said. "I just ask to keep this in mind as we move forward that we do need to help the industry."
Last year, the Senate Public Policy Committee declined to vote on a similar bill and instead sent the issue to a study committee for debate before the 2015 session. That group recommended legislation that included land-based casinos and live dealers at the horse tracks.
Dermody said Indiana's casinos and racinos are suffering because of increasing competition in surrounding states, which has drained their customer base and led to reduced revenue for the gambling operations and the state. He said the measure could bring more jobs to Indiana.
Dermody has "done a masterful job in terms of bringing this bill to where it is thus far," Sen. Timothy Lanane, D-Anderson, said. "Quite frankly, I think he's brought to us the first real jobs bill that I've seen this session."
The bill has already passed the House but not without some controversy.
The House Ways and Means Committee added a provision to the bill that would have scrapped the current revenue agreement between local communities and gambling entities and required them to renegotiate their local development contracts.
The committee also eliminated the casino admissions tax and a supplemental state payment which collectively generates $90 million yearly for local governments.
But because of the impact the amended bill threatened to have on local communities, House Republican leadership backed away from the changes and the House amended it to no longer include those provisions.
HB 1540 passed the Senate Public Policy Committee 10-0 Tuesday. The bill will head to the Senate Appropriations Committee where changes are expected.
Please enable JavaScript to view this content.