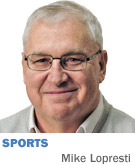 So this is what happens on March 28 in Bankers Life Fieldhouse. Four teams will win high school state basketball championships; they will do it in front of—if they are lucky—a decently full arena; and they will savor the moment, as well they should.
But they will never know what it once was. Couldn't know. Twenty-five years ago this very week, when Indiana saw a day that still echoes for those who were there.
March 24, 1990. The end of a century was coming, and so was the end of an era. The self-inflicted buzzkill of class basketball was but eight years away, when the aura of the state high school tournament would be unplugged, and attendance would be gutted. But not this day.
Dan Bush was the Bedford North Lawrence coach. Damon Bailey was his star player and already something of a state legend as the leading prep scorer in Indiana history. They were among the key faces this day in the Hoosier Dome, when 41,000 showed up to see two semifinal games in the morning, and 41,000 showed up again to see the championship game that night. A national record then, a national record now, likely a national record forever.
Bush: "I remember walking on the floor prior to the game, right before the national anthem was played and looking into the stands, and there were people as far as the eye could see, and thinking to myself, 'This will probably never happen again.'"
Bailey: "It's obvious that it was something remarkable. I'm not sure we could really grasp the magnitude of what that even was. As a 17- or 18-year-old, we had just grown up dreaming of winning a state championship."
The old box scores can tell us what happened. How unbeaten and No. 1 Concord blew a 20-point lead in the last 12 minutes, but ended up a 70-66 winner over an Anderson team whose tallest starter was 6-feet.
How Southport took a 13-point lead on Bedford North Lawrence, with 23 first-half points from William Moore. But Moore was held to five in the second half, and BNL rallied to win 58-55.
How at night, Concord led by six points late, when Bailey scored 11 Bedford North Lawrence points in a row to deliver the championship, 63-60. He never left the floor that day, playing 32 and 32 minutes, scoring 25 and 30 points. The job finished, Bailey could only say, "I was not going to get beat—plain and simple." Then he raced into the stands to hug his parents.
That covers the facts, but not the wonder of the day.
Take Norm Held. He is retired and now spends his winters on the golf course in Florida, but that winter coached Anderson.
"That's the most sensational feeling a high school coach will ever realize. Forty-one thousand people at a high school game? Most people would never believe that."
Or Jim Hahn. It was his Concord team that finished second, on a day that will always be one of the most important in his life. "Just for the memories alone," he said.  
Or William Moore. He still has the tape of the Southport-Bedford North Lawrence game, when he nearly shot Bailey out of the tournament. For one half.
"To this day, I watch that game sometimes. I watch the first half; I don't watch the second half. I never have watched the second half."
Bush still has the gray sweater he wore to those games, and the indelible images of that night. The sight of headlights stretching back for miles, as the traffic caravan followed the team home to Bedford.
"Just good old country boys," Bush called his players. Bailey had taken them to three state finals, and 1990 was their last chance. "It felt more like relief than joy at that time," Bush said.
Bailey went on to play at Indiana University, coach the girls at Bedford North Lawrence to a state title, and now is a women's assistant at Butler.
"For us, it was the pinnacle of what we had been trying to do," he said. "Being from a small community, and having been close before and not being able to get over the hump, and hearing people talk about, 'Yeah, they're good for southern Indiana, but once they start playing the bigger schools from up north, they just can't compete with them,' it was a tremendous accomplishment for us."
They were celebrating that accomplishment on the court that night, when the thought came to Bailey "that there were a couple of people I needed to thank."
He ran up several steps to get to his parents.
"They didn't get very good seats," he said 25 years later.
"We didn't have any idea that was going to happen," Wendell Bailey said recently. "It was a special moment."
Their embrace was the perfect ending to a perfect day, as 41,000 filed out of the Hoosier Dome, leaving history behind. A day that will live forever for those who were there, and stand as a bygone testament to one state's extraordinary passion. Genuine and pre-class Hoosier Hysteria. Today's players might not understand.•
__________
Lopresti is a lifelong resident of Richmond and a graduate of Ball State University. He was a columnist for USA Today and Gannett newspapers for 31 years. He can be reached at mlopresti@ibj.com.
Please enable JavaScript to view this content.