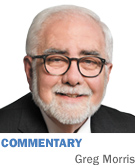 Thousands of businesspeople attend IBJ events over the course of the year. Business owners, C-suite executives and decision makers at every organizational level come together to network and share in recognizing and learning from businesses and individuals who have a major impact in the business community. We've had a great start to the year already.

IBJ honored 15 Health Care Heroes at our 15th annual event. Emotions always run high as we honor those individuals and organizations that make sacrifices on a daily basis so all of us can lead healthier and happier lives. If you missed our March 9 Health Care Heroes supplement profiling the honorees, you can find the information at ibj.com.

At our annual Technology Power Breakfast on March 13, a panel of tech-savvy professionals brought us up to speed on the fast-paced technology sector. You can read more about what our panelists had to say, along with other tech news, in this week's Technology Focus section, in print and online.

IBJ is hosting three events in April, and there's still time to get your seat or a table. Remember that IBJ subscribers receive a discount on event tickets. You can order individual tickets or a table online.

On April 21, IBJ is hosting a first-time event that is drawing a lot of attention: "Aviation & Aerospace in Indiana," at the Westin Hotel downtown, presented by the Indiana Economic Development Corp. This event features remarks by Gov. Mike Pence, Purdue University President and former governor Mitch Daniels, President and CEO of Rolls-Royce North America Jim Guyette, and Mayor Pete Buttigieg of South Bend.

The featured panelists are President of Rolls-Royce Defense Tom Bell, Director of Operations Robert Hoffman of BAE Systems in Fort Wayne, and Lafayette Project Leader of GE Aviation Eric Matteson. Not yet confirmed but invited is Todd Probert, vice president of mission support and modernization at Raytheon Co.

Scheduled topics include what makes Indiana an attractive environment for aerospace and defense-industry growth, outlining what the next-generation aerospace workforce looks like, and identifying what capabilities supply-chain companies will need to keep up with future needs of large aerospace and defense customers.

On April 24, IBJ will host its annual Life Sciences Power Breakfast at the Indianapolis Marriott Downtown. This event will feature more great panelists—David Johnson, president and CEO of Central Indiana Corporate Partnership/president and CEO of BioCrossroads; P. Ron Ellis, president and CEO of Endocyte; Wade Lange of Lange Advisors; Ping Poulsen, president and CEO of Safis Solutions; Alisa Wright, founder and CEO of BioConvergence; and William Weldon, Elanco global vice president of research and development.

Scheduled topics include whether the state has turned the corner in attracting venture funding considering that Indiana life sciences startups raised more than $100 million last year. Also, what more can Indiana do to attract talented life sciences professionals? What trends in life sciences and digital health should we watch most closely?

On April 30, IBJ will host a brand-new event: "Mind the Gap, Developing Central Indiana's Talent Pipeline," presented by EmployIndy, at the JW Marriott. TechPoint President and CEO Mike Langellier will present "Skills that Matter," pinpointing tech talent needs. Panelists are Michael Huber, president and CEO of the Indy Chamber; Brooke Huntington, president and CEO of EmployIndy; John Qualls, president of Eleven Fifty Coding Academy; and Zach Scott, president of UPS, Ohio Valley District. Our keynote speaker is Mark Muro, senior fellow and policy director for the Brookings Institution's Metropolitan Policy Program.

Is it challenging finding skilled talent now? Will it be more difficult in the future? How do we develop the right talent to fill the explosion of technical jobs on the horizon in central Indiana? What's at stake without a unified regional vision for these issues? Our professionals will tackle these tough questions and give you the road map you need to attract skilled talent to your organization.

I've covered our event lineup through April. We have eight more great events scheduled from June to December. Details are forthcoming in another column and online.

Extend your business savvy by making sure IBJ events are on your calendar. Thanks for reading and supporting IBJ. We appreciate your business.•

__________

Morris is publisher of IBJ. His column appears every other week. To comment on this column, send e-mail to gmorris@ibj.com.