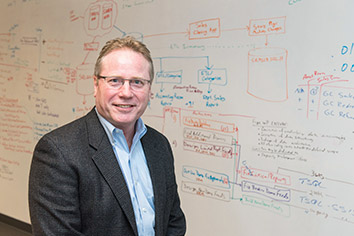 About five years ago, Jeff Ton put on the chief information officer hat at Goodwill Industries of Central Indiana Inc. A few years later, he also donned the chief marketing officer hat, giving him purview over both IT and communications.
Jeff Platon joined Indianapolis-based Interactive Intelligence Inc. last fall as CMO, but he's been making some CIO-like decisions. Platon said that, a few years ago, he would have asked for the tech chief's permission to buy software; today, he simply asks for an opinion.
"While I invited their team into the process," he said about a recent automation technology decision, "it was clear that they were there as consultants but I was driving the decision."
MORE FROM IBJ
To see video highlights from the Technology Power Breakfast panel discussion,
click here.
To see a full transcript,
click here.
Chief marketing officers—known for leading branding and ad buys—and chief information officers—who oversee tech infrastructure and software—are becoming harder to tell apart. These days, a CMO's duties at one company could be the CIO's at another, and vice versa.
Marketers today are driven more by data than by gut feelings. Technologists, meanwhile, are getting more involved in marketing, observers said, partly to help make their enterprises money instead of just costing money.
So the lines between CMOs and CIOs continue to blur, and some companies are scrambling to define or redefine the roles for each. They're even creating new titles like chief digital officer, a hybrid of sorts that oversees things like social media, mobile and other strategies.
Changes in customer habits are driving the trend, as individuals and corporations increasingly start and finish their buying journeys online. As marketers have followed suit, so has their technology spending, which Gartner Inc. analysts expect to surpass even IT's technology spending by 2017.
The overlap between marketing and technology is expected to grow. While experts don't expect CMOs and CIOs to fuse or disappear, they widely believe that the roles for each will never be what they used to be.
"So the expectation now is that the CIO will have much more of a marketing orientation than they used to and the CMO will have more of a technology orientation," said ExactTarget's former CMO Tim Kopp, who touched on the topic at IBJ's Technology Power Breakfast March 13.
Taking the reins
At some companies, all things marketing fall to the marketers, whether they have digital backgrounds or not.
At Columbus-based data-storage company Data Cave Inc., for instance, Marketing Manager Ben Hatton has sole discretion over digital ad campaigns and software buys, and he uses analytics from Twitter and other sources to drive decisions.
"I went to school for marketing," he said, "and even 10 years ago, data and marketing didn't go together at all."
For organizations such as Goodwill, the amount of technology involved in marketing commanded the tech chief's attention. Goodwill has more than 500,000 loyalty program members and millions of transactions with donors, shoppers and its disadvantaged clients. After a corporate restructuring in 2013, CIO Ton was given responsibility over the head of marketing.
"The CIO has traditionally been the keeper of the data," Ton said, "so who better to help guide the strategy?"
Marketers are known for their communications savvy and technologists are better positioned to refine and make data actionable, observers said. Organizations need those skill sets to be adept at digital-age marketing, requiring strong collaboration between the two positions or one taking the reins.
Jacques Begin, a research analyst at Connecticut-based SiriusDecisions, said he recently worked with a manufacturing firm in which marketers controlled digital marketing and its IT team focused on internal infrastructure—until a new CIO came aboard.
"When the new CIO looked at the duplication across the systems and the technology management and architecture skills within the marketing department, he found them pretty lacking," he said. "And IT did end up taking over marketing technology."
Changes in marketing
Marketing has historically been broad and one-dimensional, a bullhorn in which effectiveness was difficult to gauge.
Shawn Schwegman, CEO of Indianapolis-based DemandJump, who held senior marketing and technology roles at Overstock.com and ChaCha Search Inc., described those days as the dark ages.
"Imagine a car dealer," he said about old-school ad campaigns. "The measurement for success is, 'Did we sell more cars this month or not?'"
As customers migrated online, marketers followed. Marketers today have an array of digital tools for targeting messages with laser focus, nurturing leads, and drawing insights about what worked best.
Targeting digital consumers also means that marketing shouldn't be just a campaign, but an ongoing conversation, SiriusDecisions analysts said. It's not about simply attracting customers, but also retaining them and possibly upselling. And social-media monitoring has proven to be critical for brands.
Kopp, the former ExactTarget executive, said hyper-empowered customers can "prop up your brand or destroy it with a few strokes of the keyboard."
Marketers have also amassed mountains of customer data, but many don't know how to integrate it or make it actionable. Chief information officers are far better positioned to help than they were a decade ago.
Changes in IT
Most CIOs today aren't busy developing in-house software or performing routine, time-intensive IT infrastructure tasks. Cloud computing and software-as-a-service solutions have often removed that burden.
Ton said his team is more "agile and elastic" because "we're not doing things like upgrading servers, upgrading operating systems, spending a lot of time on disaster-recovery IT testing, and those kinds of traditional IT tasks."
Another factor in CIOs' interest in marketing has to do with proving business value. Historically, IT has been largely seen as an operational expense, not a value creator. But as routine tasks become outsourced and automated, observers said, chief executives and board directors are beginning to expect more from some technologists.
Schwegman said technologists have focused on marketing because it's what drives customer growth.
"A wise man once said, 'If you have a field of tomato plants and only enough water for a few, you can sprinkle that water over the entire field and watch them all die or you can water the hell out of some plants and watch them bear fruit,'" he said.
Evolving landscape
The demands on a company's marketing and technology resources are only projected to get bigger.
First, Kopp and others said, businesses are expected to craft a 360-degree view of their customers, including purchase history, customer service calls and more.
That holistic view will likely grow to include the Internet of Things, in which cars, appliances and other consumer devices can be controlled and diagnosed over the Internet.
"Now, increasingly, the devices themselves are speaking for the customer," said John McDonald, CEO of Indianapolis-based CloudOne. "They're saying, 'The customer doesn't even know this, but they need this.'"
Kopp said marketing anymore is not just external, but internal. During his six-year tenure at ExactTarget starting in 2008, he oversaw an initiative called Orange in part to convey the message to employees that their work was not just about getting a paycheck, but also making an impact—key to keeping tech-savvy millennial workers involved.
"We spent as much time marketing to our own employees as we did to our customers," Kopp said. "As we went from 200 employees to over 2,000, it became a key platform for us to keep everybody integrated, united and on the same page."
On the technology side, CIOs and others increasingly wrestle with the best way to manage customer data in the age of hacking. To whatever extent CMOs take on information duties, those responsibilities will entail watching privacy.
Best practices
Digital marketing authority might be up for grabs at some organizations, presenting the opportunity for a marketing chief or technology chief to take the reins. In some cases, the roles and expectations are already in place.
Either way, experts said, strong collaboration between marketing and tech executives yields the best results. This might involve technologists making sense of data and summarizing insights for marketers, and marketers touching base with technologists before purchases instead of going rogue.
"I think where it works best is when the CIO and the CMO are intertwined like a rope," Kopp said.
Begin, the SiriusDecisions analyst, said executives shouldn't firmly establish who owns the data, and that using it should be a joint effort. Going forward, the roles in each department are not going to be as clear-cut. Marketing departments, for instance, are projected to hire for creativity and data-science skills.
"On the flip side, you'll see IT organizations continue to hire people who are technically savvy," he said, "but they're going to need people who are very good business communicators."•
Please enable JavaScript to view this content.