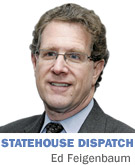 Rep. Earl Harris, D-East Chicago, passed away March 23 at age 73 while undergoing treatment for cancer.
Despite having served in the House since 1982, Harris wasn't familiar to most Hoosiers, not having served in posts from which lawmakers are elevated to the statewide public spotlight. Nor was Harris well-known outside Lake County for having authored signature legislation that galvanized or polarized Hoosiers.
His work outside the Legislature was not particularly remarkable, either. He had worked at the former Inland Steel Corp., owned liquor stores in East Chicago and Gary, and was retired from the School City of East Chicago, which he served as a fixed-assets administrator.
But if you think Earl Harris was simply an unremarkable back-bencher or placeholder of sorts, important only to constituents he had helped over his 33 years of legislative service, you're wrong.
The recent reduced presence (due to his health) and passing of Harris is a blow to a chamber that has, at times, struggled to maintain collegiality—across races and political parties.
Harris has maintained a seat on the front row of the House for many years, and it was not simply because of his seniority.
"He was a leader of our party, but in ways that did not draw attention," said Rep. Pat Bauer, D-South Bend, a former House speaker and the sole member to have served longer than Harris. "Earl Harris was one of those unsung people who did not pursue acclaim, but preferred to do his work behind the scenes, always with the idea of what he could do to make things better."
What Bauer meant was that Harris played a much-needed and underappreciated role, particularly when Democrats were in control of the House.
Harris was a boundary-spanner, someone who could bridge the gap between party leadership and the rank-and-file, between the political parties, and between races. You never heard a negative word about him personally; he never sought time at the podium simply to hear himself speak; he was always available to counsel newer members of the body, without an agenda; and he never sought to use this status to boost his position in the House.
The role of such bridge-builders is not seen by those outside the Limestone, is frequently not appreciated by those on the periphery of the process (or trying to drive an agenda at the expense of "The System"), and it comes with no reward.
But without such self-effacing players—who soothe big egos; ensure ideologically disparate lawmakers are not being marginalized; smooth relationships between leadership and those looking at a piece of the puzzle but not seeing the big picture; and ease new lawmakers through the process while assuring them their time will come—the legislative process becomes a much more difficult (and antagonistic) field to navigate.
One former Democratic lawmaker (who had also watched the Legislature work from an executive-branch perspective) lamented the condition of the House in the early years of the century after Rep. John Keeler, R-Indianapolis, retired in the late 1990s. That solon privately shared the concern that the absence of a Keeler-like figure—who could smooth things out between ideological factions in his caucus, work across the aisle without anyone questioning his motives, and even keep the calm within the Indianapolis Republican delegation (like Harris did with his Democratic delegation from Lake County)—led to a more uncomfortable life in the House, and an environment in which it was much more difficult to achieve compromise critical to legislative success.
The House will miss Earl Harris the man, and what he brought to the table. Keep watch for who may grow into the essential role he played.•
__________
Feigenbaum publishes Indiana Legislative Insight. He can be reached at edf@ingrouponline.com.
Please enable JavaScript to view this content.