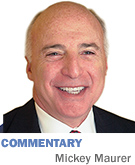 Among the most-extraordinary Hoosier entrepreneurs of the last half of the 20th century and beyond, one man deserves special mention.
Indiana can boast of Christel DeHaan, who initially managed Resort Condominiums International Inc. around her kitchen table. She sold RCI for the greater part of $1 billion and redirected her energy toward donating tens of millions of dollars to benefit children throughout the world. She is beloved—why not?
Indiana can boast of Mel Simon, who was a pioneer in shopping center development, through which he created eye-popping wealth and shared that fortune with our community. His children continue that legacy.
Indiana can boast of Gene Glick, who built single-family and multi-family homes with a total value exceeding a billion dollars and benefited countless institutions throughout central Indiana. He planned to give all of his money away and die penniless. He gave it a good try.
DeHaan, Simon, Glick—all superheroes. But I am speaking of Jim McClelland, president of Goodwill Industries of Central Indiana, who through the creation of a diversified organization in public education and industrial and commercial operations impacted thousands of the least-productive people in our city, giving them a sense of dignity and self worth that comes from useful citizens. That deserves special mention.
McClelland didn't invent Goodwill. The idea was conceived 100 years ago by a Methodist minister in Boston who was seeking a practical way to help thousands of unemployed immigrants who lived in the area served by his church. The idea spread and Goodwill Industries were established in other U.S. cities.
McClelland, who took the reins of Goodwill Industries of Central Indiana in 1974, was evidence of the new direction Goodwill took as it earned its independence from the church and found leaders with important entrepreneurial skills—people with business degrees and experience. And he delivered. McClelland fashioned a blend of business and human development disciplines as he developed the culture at Goodwill.
Under McClelland's leadership, Goodwill has grown to more than 3,000 employees and more than 70 locations in central Indiana.
During the recent downturn, when unemployment rose to 12 percent, McClelland ramped up a number of enterprises that provided jobs in such fields as housecleaning, refinishing institutional furniture, upholstery and commercial printing. McClelland's management talent was spread thin, but he succeeded at keeping people employed. When the economy improved, he terminated many of those endeavors and placed the employees in non-owned businesses.
It was typical McClelland that after he learned educational attainment has fallen even though per-pupil spending has more than doubled since 1969, he helped devise a solution. He started early—with first-time mothers in poverty. The result was the Nurse-Family Partnership, which Goodwill implemented in 2011 in a unique partnership with the Indiana State Department of Health. The feedback has been encouraging. The plan works.
Our CEOs should take a page from the book of Goodwill. At Goodwill board meetings, in addition to reviewing financial results, data is shared on how the organization benefited the community—the number of people graduating with high school diplomas from the 10 schools Goodwill has created during the last decade, the number earning post-secondary credentials that make them more employable, and the number of people employed as a result of efforts of Goodwill.
Unlike the three super entrepreneurs previously mentioned, McClelland did not create personal wealth, although I am sure he could have had he devoted himself to that undertaking. Rather, he devoted himself to our community and we are the better for that.
On June 30, Jim McClelland will retire from Goodwill Industries after 41 years of service. We hope his retirement only signals a change of direction. The business community would benefit from McClelland's advice and mentorship. Besides, the best of his lot never really do retire. A celebration of McClelland and his extraordinary career will be held on the evening of April 9 at the Indiana Roof Ballroom.
Congratulations, Jim.•
__________
Maurer is a shareholder in IBJ Corp., which owns Indianapolis Business Journal. His column appears every other week. To comment on this column, send e-mail to mmaurer@ibj.com.
Please enable JavaScript to view this content.