Before the spunky Fiona showed her true colors in "Shrek" and before Stephen Sondheim and James Lapine went beyond "happy ever after" in their musical "Into the Woods," fairy-tale tropes were turned upside down in "The Paper Bag Princess."

The Children's Museum of Indianapolis is giving the 3-million-plus-copy best-seller a fun, free-with-admission, created-by-Hoosiers production (through April 19).

For those who didn't read the show's source material dozens of times to enthusiastic kids on your lap, Robert Munsch's 1980 book concerns marriage-tracked Princess Elizabeth and Prince Ronald who have their nuptial plans interrupted by a nasty dragon.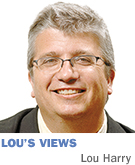 While the kingdom smolders, Ronald is captured and Elizabeth's wardrobe is reduced to ashes, leading her to dress in the makeshift garment that gives the book its title. But she's spunky and brave, this princess. And (spoiler alert) she outsmarts the dragon by exhausting it, challenging it to burn multiple forests and fly around the world.

Ronald, however, is less than appreciative of his rescue, commenting not on Elizabeth's impressive deeds but focusing instead on her disheveled, un-princess-like appearance.

Her reaction? In the kid-lit equivalent of Nora slamming the door in Ibsen's "A Doll's House," the princess calls her fiance a bum and happily ditches him. Clearly, she'll have a happier "happy ever after" without him.

Ben Asaykwee, best known locally as the impresario behind Q Artistry, tackled script, music and lyrics duties here with aplomb (he also takes a narrating role). The opening talking-to-the-audience meta-sequence goes a bit too long before we get to the tale itself and, conversely, the ending feels a notch too rushed. But in between, there's plenty of fun.

As a book writer, Asaykwee strikes a nice balance between engaging the kids (on my visit, the 350-seat theater was about 2/3 full) and keeping the adults awake while staying loyal to

the original story. As a composer, his tunes are mostly catchy and the lyrics often rewarding.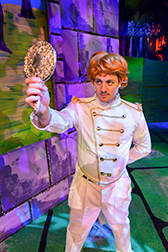 Prince Ronald (Thomas Cardwell) admires himself in "The Paper Bag Princess." (Photo courtesy of The Children's Museum of Indianapolis)
One character greets another with, "Good morning, slash, eventide." Another sings, "Watch your language/Mind the censor/We are on a wild adventure." And Prince Ronald gets a nice egotistical moment alternating "You are better looking" and "No, you are better looking" … to his image in two hand mirrors.

A committed, talented team of players, abetted by Director Ty Stover and a smart crew of designers (love that dragon costume) never loses track of the fact that the show's primary mission is to engage the kids—but that doesn't mean parents can't be included in the fun. Raptly attentive—then enthusiastically rushing to meet the actors after the show—the kids were better behaved than many adults I've seen in theaters. For the record, I didn't see a single toddler texting during the performance.

And lest we think children's productions exist in some kind of theatrical vacuum, let us not forget that Lynn Ahrens, the lyricist/book writer behind "Ragtime," cut her teeth writing "Schoolhouse Rock!" segments. And before writing "Book of Mormon," composer Robert Lopez tried adapting "Hamlet" for the Muppets. Children's theater can be a great way to earn one's musical chops.

Asaykwee's "The Paper Bag Princess" could—and should—become a staple at other museums and in school theater programs. I'm eager to hear what he sets his musical mind to next.•