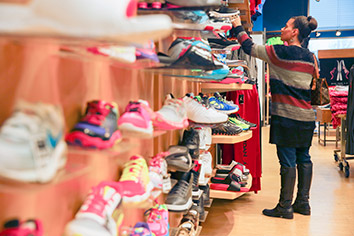 Fiscal fourth-quarter earnings from The Finish Line Inc. exceeded analyst expectations as revenue rose 6.3 percent, but the company offered earnings guidance well below analyst expectations.
The mixed news sent the shares briefly higher, before they fell in very heavy trading Friday morning. By 11 a.m., more than twice the usual volume of shares had traded for a range of $23.33 to $25.08 apiece.
For the fiscal fourth quarter ended Feb. 28, the Indianapolis-based retailer of athletic apparel reported profit of $40.8 million, or 87 cents per share, compared with $43 million, or 87 cents per share in the year-ago period. Revenue jumped 6.3 percent, to $551.3 million.
Analysts were expecting earnings of 85 cents per share on revenue of $550.3 million.
Same-store sales, a key figure that considers stores open at least a year, increased 2.6 percent. But Finish Line said it expects full-year earnings for fiscal 2016 to be $1.67 per share, below analyst expectations for $1.81.
Finish Line's board authorized the buy-back of 5 million company shares, adding to an existing authorization with 1.2 million shares remaining. The company bought back 2.7 million shares for $68.1 million in fiscal 2015.
Finish Line CEO Glenn Lyon said the results represent a strong finish to a disappointing fiscal 2015.
"We quickly reduced expenses and gained better leverage to deliver earnings ahead of plan," he said in a prepared statement. "At the same time, we made progress rebalancing our inventory to better align with customer demand."
Inventory increased 13.2 percent, to $344.4 million
For the previous quarter ended Nov. 29, one-time costs took a toll on profit, which ended up at $2.6 million. As a result, company shares tumbled by about 20 percent.
Profit for the entire fiscal year was $82 million, or $1.70 per share, compared with $76.9 million, or $1.56 per share, in fiscal 2014.
Revenue climbed 9 percent, to $1.8 billion.
The company operates 1,030 stores in malls and Macy's department stores and 76 Running Specialty shops.
Please enable JavaScript to view this content.