A local developer has bought a vacant building along College Avenue in the heart of Midtown and hopes to attract a restaurant or retailer to the space.

An affiliate of PK Partners purchased the property March 26 at the southeast corner of 46th Street and College Avenue that for decades housed a Double 8 Foods store. The 5,865-square-foot building was constructed in 1930 and originally was occupied by a Kroger grocery.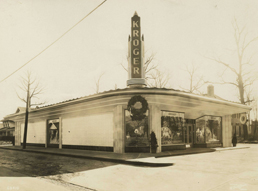 Built in 1930, the retail property first housed a Kroger. (Image courtesy PK Partners)
The building has been vacant for about a year, said Wes Podell, PK Partners' senior vice president of development. Podell, who declined to divulge how much the company paid for it, said the building already is attracting interest from prospective tenants.

"We bought it speculatively," he said, "but we've had people calling us already."

Double 8 owner Isaiah Kuperstein, who still operates four of the stores in the city, had shopped the location on College Avenue as a lease opportunity, asking $14 per square foot. But PK Partners instead wanted to buy the building, said Bill French, a DTZ retail broker who listed the property.

"We were marketing the property 'for lease' and recognized that PK had an interest in purchasing the property if it could be made available," French said. "They made a nice offer to purchase it and we came to an agreement."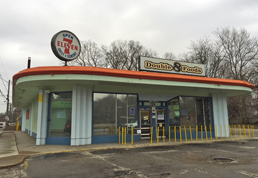 The property today holds promise at the southernmost tip of SoBro. (Image courtesy PK Partners)
PK Partners is no stranger to the Midtown area.

PK Partners owns the building at 49th Street and College Avenue occupied by The Sinking Ship restaurant and others. To the west, the firm developed a building at 38th and Meridian streets for Starbucks and a building at 56th and Illinois streets for Graeter's Ice Cream Shop.

The company on March 11 broke ground on a much larger project— an $11 million office building and 300-space parking garage at Keystone at the Crossing. The building, to be built east of River Crossing Boulevard, is part of a planned 15-acre development near the Fashion Mall called River North at Keystone that includes office buildings, apartments, a hotel and retail space.

Meanwhile, the property at 46th and College that PK Partners purchased from Double 8 could be ripe for redevelopment.

The intersection serves as a gateway to the emerging southern Broad Ripple district and is located within the affluent Meridian-Kessler neighborhood. Average household income within a one-mile radius is $78,401, according to DTZ marketing materials.

On-site parking is available, in addition to having access to a large parking lot across the street, and the property ultimately could be located near a stop station along a major bus route.

The proposed rapid-transit, all-electric Red Line bus route would stretch 28 miles from Hamilton County to Johnson County and run through Broad Ripple and south on College Avenue.

"Building upon the strength of Meridian-Kessler, we believe 46th and College has great future potential," Podell said.

The Double 8 Foods building originally housed a Kroger, which first was located across the street in the building occupied by Big Al's Superstore. Kroger moved to the newer building to the south in 1932.

Indianapolis architectural firm Pierre & Wright, one of the predecessor firms of Vonnegut, Wright & Yeager, designed both buildings.