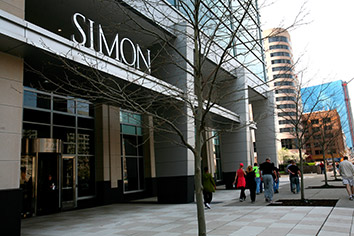 Simon Property Group Inc. withdrew a $16.8 billion proposal to acquire Macerich Co. on Wednesday after the smaller shopping center owner rejected the sweetened takeover offer as too low.
Macerich said in a written statement late Tuesday that the $95.50-a-share offer doesn't reflect the full value of the company. Simon said separately that it pulled its bid after Macerich's board refused to engage in talks.
Simon, the largest U.S. mall landlord, said on March 20 that its latest bid was its final offer after Macerich rebuffed an earlier proposal of $91 a share. Purchasing the Santa Monica, California-based real estate investment trust would have allowed Simon to add top-tier properties that rarely come up for sale.
"The board unanimously concluded that your proposal continues to substantially undervalue Macerich," Chairman and CEO Arthur Coppola said in a letter to Simon Chairman and CEO David Simon, included in the statement. "Our board believes that continuing to execute on our strategic plan will yield substantially more value for our stockholders."
Macerich took steps to thwart a hostile takeover after the first public offer. The company said on March 17 that its board approved a staggered election of directors, which would make it more difficult to oust the board, and adopted a "poison pill" defense designed to raise the price Simon would have to pay.
Investors had been betting that Simon's latest offer wouldn't be enough for a deal. Macerich shares closed Tuesday at $84.33, down from $93.50 on the day before the new bid.
'Sustained' underperformance
While the bid rejection was expected, Macerich's refusal "without any offer to engage Simon or explore 'strategic alternatives' is surprising and frankly difficult to understand," Stifel Nicolaus & Co. analysts led by Nathan Isbee wrote in a note to clients Wednesday. Macerich shares "are likely to trade down today into the high $70s, and we think the REIT could face a sustained period of underperformance."
Macerich owns or has stakes in more than 50 malls, including Tysons Corner Center in Virginia, Westside Pavilion in Los Angeles and the Shops at North Bridge in Chicago. The company, founded in 1964 in Ames, Iowa, by Mace Siegel, has been upgrading its centers, similar to what its mall-landlord peers are doing.
In a November investor presentation, Macerich said it can get 8-percent to 10-percent returns on redevelopment and expansion projects.
Outlet stores
The company said Tuesday it will continue to pursue that plan, as well as seek to improve margins and expand its outlet-store business. It also said it will review its poison-pill plan and classified board after its annual meeting.
Under the latest proposal, Macerich shareholders would have received the equivalent of $95.50 a share as 50 percent cash and 50 percent Simon stock. That price represented a 37-percent premium to Macerich's closing price on Nov. 18, the day before Simon disclosed it had taken a 3.6-percent stake in the company, sparking takeover speculation. The offer was valued at $23.2 billion, including the assumption of about $6.4 billion of debt.
Just before Simon disclosed its stake, Macerich said it bought the shares of five U.S. shopping malls it didn't already own from a subsidiary of the Ontario Teachers' Pension Plan Board for $1.89 billion, including the assumption of debt. The purchase price included $1.22 billion of stock issued to the pension plan, or an ownership of almost 11 percent, at $71 a share.
Failed takeovers
Simon has tried before to buy competitors and failed. The REIT attempted to acquire General Growth after the No. 2 U.S. mall landlord filed for bankruptcy in 2009. Chicago-based General Growth left bankruptcy in November 2010, with financing from a group that included Brookfield Asset Management Inc. and Pershing Square Capital Management, after thwarting the Simon takeover attempt.
More than a decade ago, Simon and Westfield America Inc. tried to buy Taubman Centers Inc., a luxury-mall owner based in Bloomfield Hills, Michigan. The unsolicited offer was dropped after Michigan enacted a law that let the Taubman family block the transaction.
Please enable JavaScript to view this content.