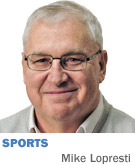 Someone will win the national championship game Monday night in Lucas Oil Stadium.

Someone is going to lose it, too. While the other team's players dance and hug and wipe confetti from their hair, the defeated will sit in a quiet locker room and wonder why fate chose someone else's One Shining Moment.

The worst thing? The pain never really goes away. For some, this visit to Indianapolis will excruciatingly linger.

So here's to those who've finished second, that most bittersweet spot of all.

Here's to Larry Bird, 36 years after he and Indiana State lost to Magic Johnson and Michigan State.

"It still bothers me," he said the other day. "I didn't think there was any way we weren't going to beat them that night. I didn't play well in the finals, and I'd like to have one more shot at that."

Here's to John Calipari, who watched his Memphis team blow a nine-point lead in the final two minutes against Kansas in 2008, get tied by a Mario Chalmers' three-pointer in the last seconds, and lose in overtime. He has often repeated the story of what happened to that game film.

"It was flung out of the door of the bus as we were going to the plane. So I have never looked at that tape. Nor will I."

Here's to Brad Stevens, one of only four coaches who had to console a championship-losing team in consecutive years. In 2010, it was the anguish of the Gordon Hayward shot that nearly beat Duke.

"They're crushed," he said afterward. "I mean, this matters."

In 2011, it was the sting of title hopes melting with historically bad 12-for-64 shooting against Connecticut. His message to his Bulldogs that night? "I don't love 'em any less because we lost."

Here's to the seven teams that have the ultimate near-miss agony of losing a national championship in overtime. One was Dartmouth, who in 1944 and still today would be the only Ivy League champion in history. Another was Cincinnati, with a chance to be the first three-peat champion, beaten in the last second of overtime by a Loyola of Chicago team that used only five players all night.

Another was Seton Hall, which led Michigan 79-78 in the final seconds of overtime when an iffy foul call gave the Wolverines' Rumeal Robinson two free throws. He made them both. Not long ago, Seton Hall's Pookey Wigington told the New York Post, "It was a life-changing call. ... If you are a national champion, your life is different."

Here's to Wilt Chamberlain and Jerry West, future NBA legends who played their hearts out when their championship chances came. Chamberlain scored 23 points for Kansas in 1957, West 28 for West Virginia in 1959. Each lost by one point.

Here's to Pat Riley, future NBA coaching giant, who played for Kentucky the night in 1966 the all-white Wildcats were upset by an all-African-American lineup from Texas Western. The social significance of that would not dawn on everyone until later.

"The night of the loss," Riley said, "it was simply misery."

Here's to Purdue and Iowa and Illinois, each 0-1 in championship games. And Mike Krzyzewski, who has lost four of them, more than anyone in history.

Here's to Seattle and Jacksonville, lightly known programs now, but each with their one moment in the sun. Even if it was second place.

Here's to the teams with famous nicknames, who lost two championship games in a row. Houston's Phi Slama Jama in 1983-1984, Michigan's Fab Five in 1992-1993. And to those with infamous boo-boos in title games, both against North Carolina. Georgetown's Fred Brown and the wrong-team pass to James Worthy in 1982, Michigan's Chris Weber and the one-too-many timeouts in 1993.

Here's to Dean Smith, who lost three title games before he could win one.

And to John Beilein, trying to console his Michigan team after a grand tournament run that ended with a loss to Louisville in 2013.

"This [locker room] was as emotional as we've ever had. I hope tomorrow when we get on the plane, there's some smiles on the faces. If they're not smiling, we're going to make them smile."

And to Rick Majerus, minutes after his Utah team lost to Kentucky in 1998.

"I wouldn't trade anything for my players. I mean, they're really nice kids. I have the nicest problems any coach could ever have. I'm just going to congratulate Kentucky and go off into the night."

And to Krzyzewski, after Duke was upset by Connecticut in 1999.

"Anybody who expects me to be down about this game, they don't understand me. I'm not going to be down about this game because it would take away from my experience with this group."

And to Roy Williams after Kansas lost by three points to Syracuse in 2003, his last game as Jayhawks coach, it turned out. With rumors rampant he was heading for North Carolina, he barked an obscenity at a persistent television interviewer a moment after the defeat.

"I thought the question was pursued deeper than it should have been," he said later. "I said, 'I don't give a blankety-blank about North Carolina. I care about those 13 kids in the locker room.' Coach [Dean] Smith will be disappointed in my blankety-blank, but he understands."

Here's to Bobby Hurley, now a coach, describing a few months ago the night in 1990 his Duke team was mashed 103-73 by UNLV.

"I had never watched that game until this year with my [Buffalo] team. I found about five minutes of all the dunks and all the stuff that was going on, and I wanted my team to see you could have your heart broken. Here's me getting my heart broken and humiliated. And then I showed them the year after, and what happened next time [when Duke upset UNLV]."

Here's to Kevin Grevey, who scored 34 points for Kentucky, but could not get the Wildcats past UCLA in John Wooden's last game 40 years ago.

"There are not many days in your life that you would do whatever it takes to win. And then when you lose, you almost wish you never got there."

And finally, here's to Scott Padgett. In 1997, Kentucky had eight more field goals than Arizona but was outscored 34-9 from the line and lost 84-79 in overtime. The words he said to me in 2012 could speak for all those who've endured the cruelty of second place.

"I don't know when the regret ends. It's 15 years later ... and I'm still upset."

So pause to sympathize with the losers Monday night. The hurting starts then. For some, it may never truly end.•

__________

Lopresti is a lifelong resident of Richmond and a graduate of Ball State University. He was a columnist for USA Today and Gannett newspapers for 31 years; he covered 34 Final Fours, 30 Super Bowls, 32 World Series and 16 Olympics. His column appears weekly. He can be reached at mlopresti@ibj.com.