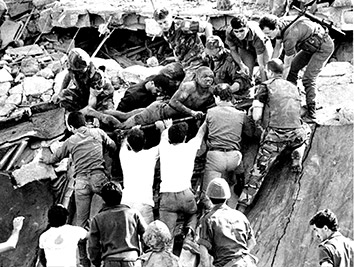 A note to my IBJ colleagues (as well journalists—student and professional—toiling or hoping to toil for other media outlets): For an awe-inspiring and humble experience, you must get to the Indiana State Museum to see "Art Meets News: The Work of Photojournalist Bill Foley" (through July 19).
A note to anyone else: You should join them—just expect to leave a bit shaken.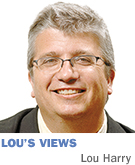 Powerful in its matter-of-factness, stunning in its focus, understated in its design, "Art Meets News" showcases photos by Bill Foley, who grew up in Indianapolis and now teaches at Marian University. His remarkable photojournalism career took him to 47 countries, includingEgypt and Lebanon, where the majority of the works in this exhibition were shot.
For most Americans, Middle Eastern politics are a blur. But it doesn't take a detailed knowledge of the Sabra and Shatila massacre, the assassination of Bashir Gemayel, or the specifics of the Phalange Party in Lebanon, to appreciate and be deeply moved by Foley's work—or to understand why he was awarded a Pulitzer Prize.
Playful early photos—including a Cub Scout secretly preparing to pop the balloon of one of his pack-mates—quickly give way to global matters. In 1978, Foley started shooting Egyptian President Anwar Sadat. If you go to Google Images, one of the first pictures you'll see is a smiling Sadat looking up to the sky: The last known image of Sadat before he was assassinated in 1981, it was shot by Bill Foley.
The exhibition design serves the work. While most are presented larger than they would have been in the New York Times or in the pages of Time magazine, individual photographs aren't overplayed, which means visitors are drawn into them, creating a more intimate experience.
 

Foley
Smartly placed and programmed sound kiosks offer a chance to hear Foley, in his own low-key words, describe what went into the making of key photos. At one point he casually talks about running toward gunmen, and his matter-of-factness speaks volumes. While hints of behind-the-scenes drama are there—Foley, for instance, was supposed to be at the embassy in Beirut when it was bombed—the photographer never upstages the subject. There's never any doubt that Foley is a journalist first.
Foley's career hasn't all been about war-torn countries and people. Some of his work for Save the Children and, in contrast, on the sets of Hollywood films and TV shows, are shown as well. But they are presented in a way that doesn't compete with the focus of the exhibition. Seeing them, I felt a sense of relief that Foley had time away from the rubble to practice his art in different ways.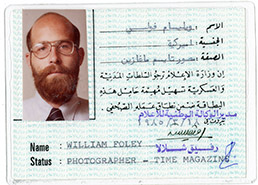 One of many Foley press badges.
The exhibition also reminds us that, before the digital revolution, being a photographer also meant being a developer and delivery boy as well. The final gallery showcases the tools of the trade, including photo contact sheets, dark room equipment, and travel documents.
But it's the human horror that lingers. So does one of the few images in the show that doesn't focus on people: a peaceful 1982 shot of sailboats on the Nile with what looks like a wall of sand behind it. At first, it seemed out of place in the show, but the strikingly beautiful image offers an important ray of hope as well as additional insight into Foley's remarkable, artful eye.•
__________
This column appears weekly. Send information on upcoming arts and entertainment events to lharry@ibj.com.
Please enable JavaScript to view this content.